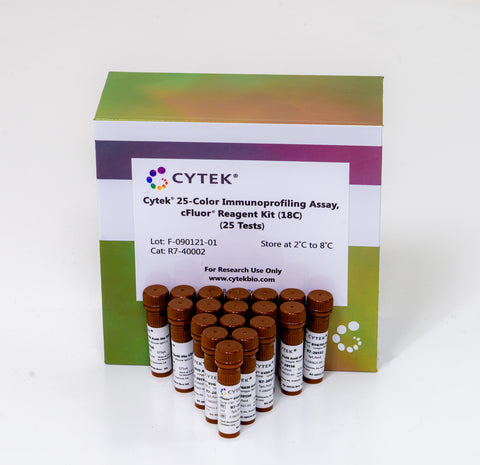 Cytek® 25-Color Immunoprofiling Assay, cFluor® Reagent Kit (18C)
SKU R7-40002
Description
The Cytek® 25-color immunoprofiling assay is designed and optimized by Cytek scientists to provide a turnkey solution for identifying major human immune subpopulations for T, B, NK cells, monocytes, dendritic cells, and basophils – all of which play important roles in the innate and adaptive immune response in various diseases.

To support the new 25-Color Immunoprofiling Assay, Cytek released an 18-color cFluor® reagents kit that can be used with seven reagents from other suppliers. The 25-color assay has been optimized and titrated for use with 7 Brilliant Violet™ reagents available from Biolegend® for analyzing human PBMC and whole blood on Cytek's Aurora systems equipped with violet, blue, yellow-green, and red lasers.
PRODUCT DETAILS
Tested Dilution:  5 μL / test
Application:         Flow Cytometry
Storage:               2-8°C and protected from Light. (Do not freeze)
Formulation:       Phosphate-buffered solution, pH 7.2, containing 0.09% sodium azide and 0.2% BSA.
Validation Report: PDF 
EXAMPLE DATA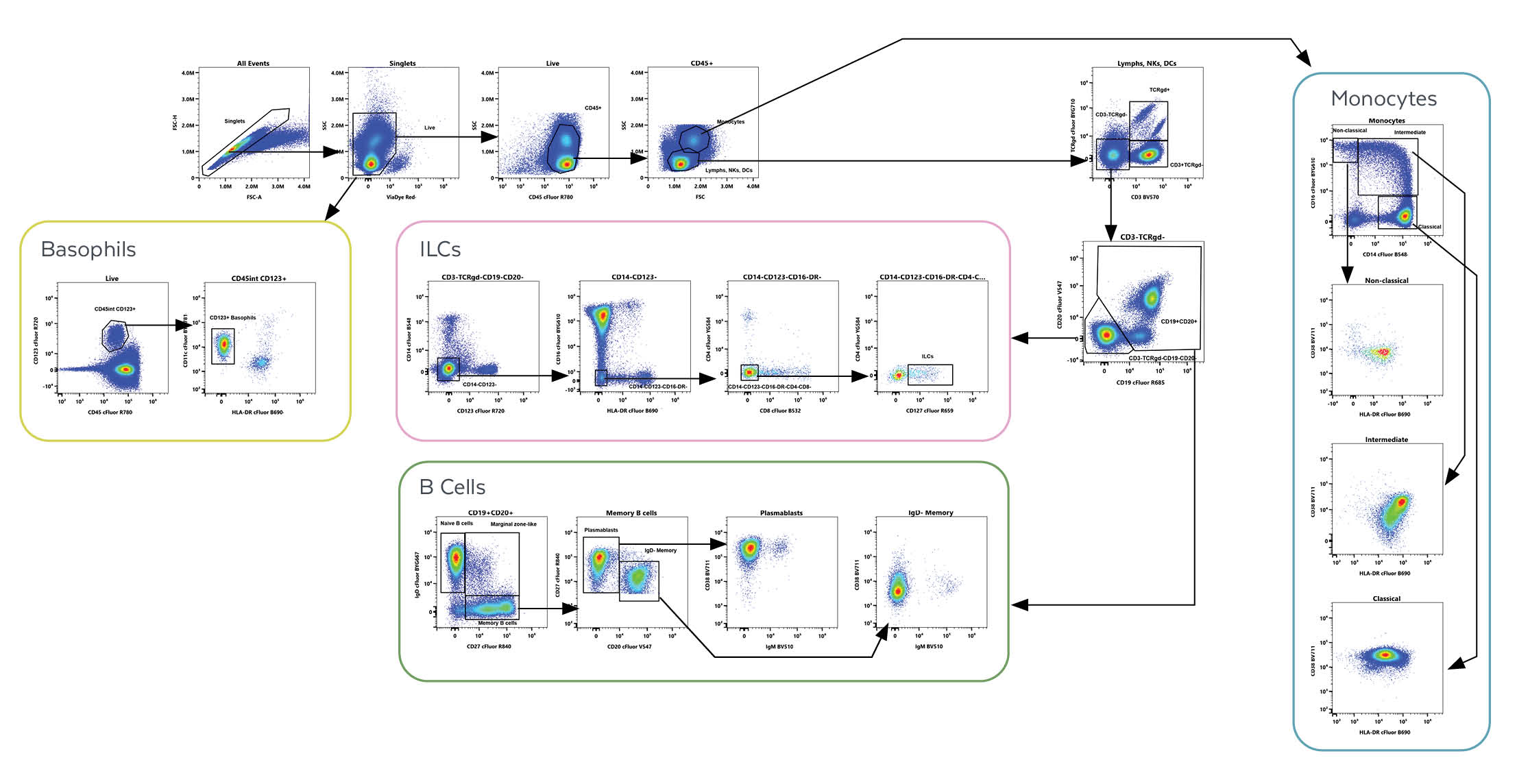 Cell gating for population identification using the Cytek® 25-Color Immunoprofiling Assay Kit. Cells are first gated on singlets, viable cells, CD45+, and lymphocytes or monocytes based on scatter. Lymphocytes are divided into T cells, non-T cells, B cells, and ILCs. Monocytes are characterized into phenotypes by expression of CD14 and CD16. Basophils are classified in viable cells.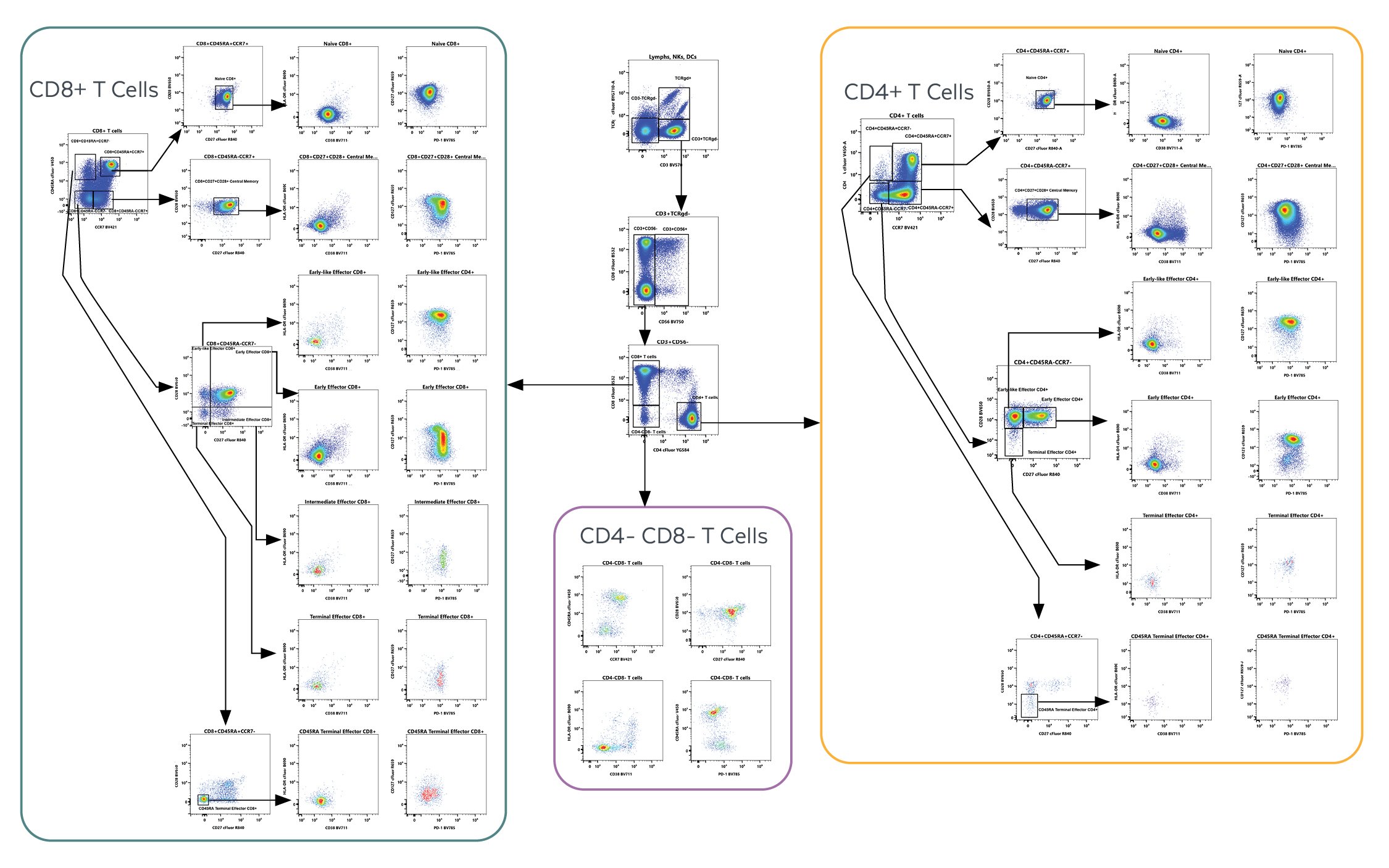 Within the T lymphocyte population, CD4+, CD8+, and CD4-CD8- T cells can be quantified and further segregated into naïve, memory, effector, and terminal effector subsets.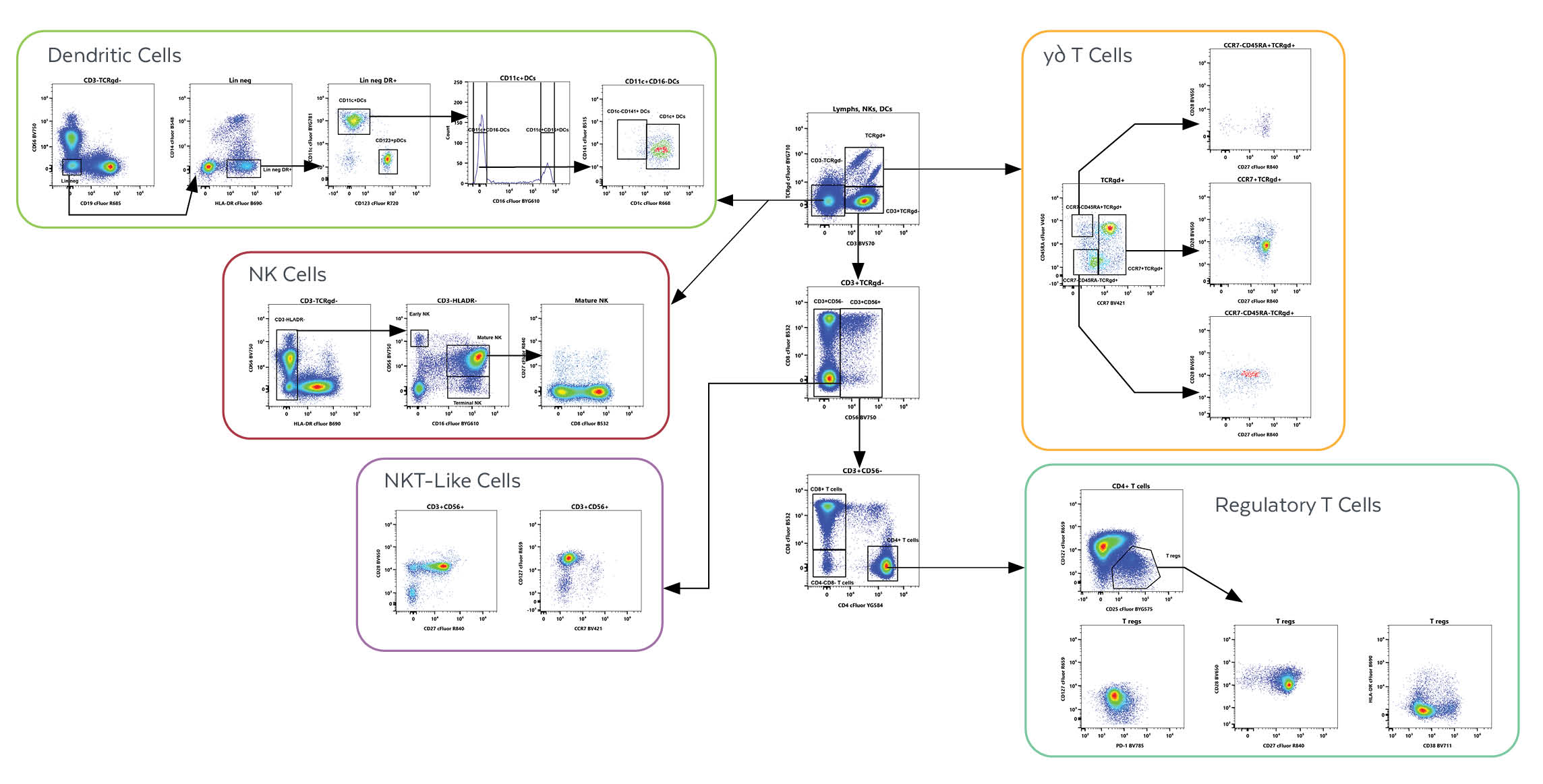 Additionally, identification and characterization of dendritic cells, NK cells, γδ T cells, NKT-like cells, and regulatory T cells are achievable using the Cytek® 25-Color Immunoprofiling Assay Kit.

Cytek® 25-Color Immunoprofiling Assay, cFluor® Reagent Kit (18C) includes 18 cFluor reagents offered by Cytek
*Immunoprofiling Kit, 7 Color (Brilliant VioletTM)  includes 7 Brilliant Violet reagents available for purchase from BioLegend
RECOMMENDED USAGE
Human peripheral blood mononuclear cells (PBMC) or whole blood have been tested to validate the performance of this kit. 
REFERENCES
Clevers H et al. Ann Rev Immunol. 1988 6, 629 (1988) 
Evans RL et al. Immunol. 78, 544 (1981) 
Cole DK et al. Cell Mol Immunol. 1, 81 (2004) 
Ferrero E et al. J. Immunol. 145, 331 (1990) 
Wirthmueller U et al. J Exp Med. 175, (1992) 
Dennis O et al. J Immunol. 170, 73 (2003) 
Shevach E. Nat Rev Immunol. 2, 389 (2002) 
Vossen M et al. J Immunol. 180, 3739 (2008) 
Fritsch R et al. J Immunol. 175, 6489 (2005) 
Loken MR et al. Cytometry. 11, 453 (1990) 
Kumar, Connors & Farber. Immunity. 48, 202 (2018) 
Poli A et al. Immunology. 126, 458 (2009) 
Carrette, F & Surh, C. Semin Immunol. 24, 209 (2012) 
Mahnke Y et al. Eur J Immunol. 43, 2797 (2013) 
Goodwin R et al. Cell. 73, 447 (1993) 
Sadler JE. Et al. Thromb Haemost. 78 392-5 (1997) 
Bajzar L, et al. J Biol Chem. 271,16603-8 (1996) 
Walseng E, et al. J Biol Chem. 283,14717 (2008) 
Liu Y, et al. Cells. 9,1206 (2020) 
Kabelitz D, et al. Int Arch Allergy Immunol. 122,1-7 (2000) 
Bonneville M, et al. Nat Rev Immunol. 10,467-478 (2010) 
Sándor, Noémi et al. PloS one vol. 11,9 e0163120 (2016) 
Stacker SA and T.A. Springer. J Immunol. 146, 648 (1991) 
Kared H, et al. Cancer Immunol Immunother. 65, 441-52 (2016) 
Mechtersheimer G, et al. Cancer Res. 51, 1300-7 (1991) 
Stelin, S. et al. J Indian Soc Periodontol 13, 150-4. (2009) 
Macardle PJ, et al. Cell Immunol. 168, 59 (1996) 
Yamada T, et al. J Allergy Clin Immunol. 101, 677 (1998) 
Naeim, F, et al. Atlas of Hematopathology 2nd Edition (2018) 
Esensten, J, et al. Immunity. 44, 973-988 (2016) 
Morandi, F, et al. Cells. 8, 1527 (2019) 
Patsoukis, N, et al. Science Advances. 6, 1-13 (2020) 
Pieper, K, et al. J Allergy Clin Immunol 131, 959-971 (2013) 
Heger, L, et al. Front. Immunol. 11, 559166 (2020) 
For Research Use Only. Not intended for use in diagnostic procedures. 

Cytek dye cFluor® R840 and its conjugates were developed, manufactured, and are commercialized by BioLegend, Inc. under the trademark APC/Fire810™. Cytek dye cFluor® BYG610 was developed, manufactured, and is commercialized by BioLegend, Inc. under the trademark PE-Dazzle 594™. *Fluor conjugated antibody manufactured and supplied by BioLegend Inc.
cFluor® V547, cFluor® B515, cFluor® B532, cFluor® B548, cFluor® YG584, cFluor® R668, cFluor® R685, and cFluor® R720 are equivalent to CF®405L, CF®488A, CF®503R, CF®514, CF®568, CF®647, CF®660C and CF®700 respectively, manufactured and provided by Biotium, Inc. under an Agreement between Biotium and Cytek (LICENSEE). The manufacture, use, sale, offer for sale, or import of the product is covered by one or more of the patents or pending applications owned or licensed by Biotium. The purchase of this product includes a limited, non-transferable immunity from suit under the foregoing patent claims for using only this amount of product for the purchaser's own internal research. No right under any other patent claim, no right to perform any patented method, and no right to perform commercial services of any kind, including without limitation reporting the results of purchaser's activities for a fee or other commercial consideration, is conveyed expressly, by implication, or by estoppel.
Brilliant Violet™, Brilliant Violet 421™, Brilliant Violet 510™, Brilliant Violet 570™, Brilliant Violet 605™, Brilliant Violet 650™, Brilliant Violet 711™, and Brilliant Violet 785™ are trademarks of Sirigen Group Ltd.
"Cytek," "SpectroFlo" and "cFluor" are trademarks or registered trademarks of Cytek Biosciences, Inc. All other service marks, trademarks and tradenames appearing herein are the property of their respective owners.
Shipping
Price calculated at checkout.