PRODUCTS & SERVICES
Cytek® Aurora
A prodigy that's taking flow cytometry to the next level of performance and flexibility.
PRODUCT BROCHURE
REQUEST MORE INFORMATION
Our Product
High Level Overview
The Cytek Aurora leverages full spectrum technology to provide unprecedented flexibility to scientists, enabling the use of a wide array of new fluorochrome combinations without reconfiguring the system for each application. The Aurora system delivers high-resolution data at the single-cell level to resolve the most challenging cell populations, such as cells with high autofluorescence or low levels of expression of key biomarkers, regardless of assay complexity.
Close
Submit this form to download the paper
Complete the fields below to download the white paper Spectral Analysis Meets Flow Cytometry. Check the consent boxes at the end of the form to receive additional communication from the Cytek Biosciences team.
Learn More About Full Spectrum Cytometry
SpectroFlo® software offers an intuitive workflow from QC to data analysis with technology-enabling tools that simplify running applications.
So Many Colors
Up to 40 colors demonstrated including fluorochromes with emission spectra in close proximity to each other.
Exceptional Sensitivity
Sensitivity redefined using state of the art optics and low noise electronics.
A New Level of Flexibility
No changing optical filters for any fluorochrome. Use any commercially available fluorochrome excited by the onboard lasers.
Technology
With up to five lasers, three scattering channels, and 64 fluorescence channels, the Aurora system is highly flexible, intuitive and ultra-sensitive. With its intuitive optical design, compact footprint and upgradeability from 3 to 5 laser configurations, the Aurora system suits every laboratory's needs from simple to high complexity applications.
Proprietary high sensitivity Coarse Wavelength Division Multiplexing (CWDM) semiconductor detector arrays enables more efficient spectrum capture for dyes emitting in the 365-829 nm range. CWDM full spectrum technology unlocks each fluorochrome to express themselves fully across the entire light spectrum.
The state-of-the-art optics and low-noise electronics provide excellent sensitivity and resolution. Flat-top beam profiles, combined with a uniquely designed fluidics system, translate to outstanding performance at high sample flow rates.
Testimonials and Publications
Why Cytek® Aurora
Learn from Jeff Nelson, a manager of a cytometry shared resource laboratory, about the Cytek Aurora's unique features and how easy it is to get new users up and running on the system.
Solving Autofluorescence Challenges
Anna Belkina, associate director of flow cytometry core and assistant professor of pathology at Boston University School of Medicine, shares her experiences getting familiar with Cytek Aurora and helping users succeed with challenging applications.
Service Plan Comparison
Maintaining your cytometry equipment does not have to be prohibitively expensive. Cytek's service through technical excellence offers lab managers cost effective service plans, without sacrificing quality assurance.
Service Contract Types
The following on-site service contract types are available through Cytek®:
Value
Includes
Parts
Travel
Labor
Phone Support
2 Maintenance Visits/Year
$750 deductible per emergency service visit.
Premium
Includes
Parts
Travel
Labor
Phone Support
2 Maintenance Visits/Year
Guaranteed Response Time
Preventative Maintenance
Includes
Phone Support
2 Maintenance Visits/Year
All other parts and services billed at prevailing rate.
Performance Data
Autofluorescence Extraction
The Aurora system's implementation of full spectrum flow cytometry enables the use of autofluorescence extraction to further improve data clarity. Certain sample types, such as yeast and tumor samples, present the challenge of high autofluorescence. For these challenging applications involving highly autofluorescent particles, let the software's autofluorescence extraction tool bring new levels of resolution. SEE POSTER
Small Particle Detection
With its onboard 100 mW 405 nm laser and highly sensitive violet SSC detector, Aurora opens the door to a wide variety of small particle applications, taking what was once hidden and placing it in full view.
Close
Submit this form to download the data sheet
Complete the form below to download the "Enhanced Small Particle Detection on Cytek Aurora and Northern Lights" data sheet. Check the consent boxes at the end of the form to receive additional communication from the Cytek Biosciences team.
Deep Immunoprofiling
The Cytek Aurora's use of full spectrum flow cytometry combined with the SpectroFlo® software's real-time unmixing capability provides greater fluorochrome choice and panel flexibility and allows users to quickly visualize data and statistics. All this results in the ultimate flow cytometry solution for deep immunoprofiling, from 24 colors all the way to 40 colors.
24 Colors
The three-laser configuration provides outstanding multi-parametric data for a wide array of applications. Check out how markers and fluorochromes in a 24-color panel designed for identification of circulating cell subsets in human peripheral blood look when run on the Aurora system.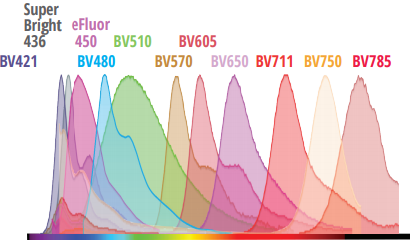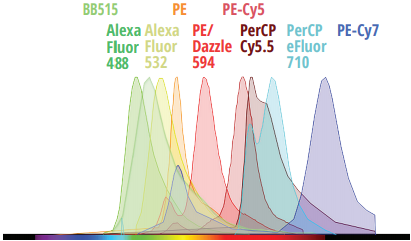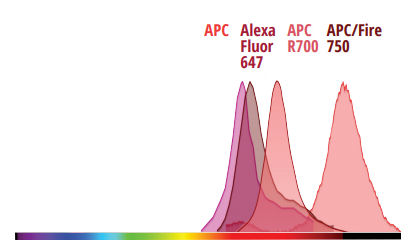 SEE POSTER
40 Colors
Until recently, developing fluorescence-based flow cytometry assays with 40 colors has been merely aspirational, with many turning to competing technologies for high-parameter applications. No longer. With 64 fluorescence detectors and only 5 lasers, the Cytek Aurora now has the capability to resolve up to 40 colors in combination. Cytek has developed a 40-color human immunophenotyping panel acquired from a single tube, with outstanding resolution.
SEE POSTER
PUBLICATION
Class 1 Laser Product.
For Research Use Only. Not for use in diagnostic or therapeutic procedures.