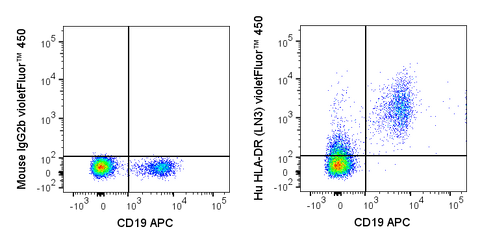 violetFluor™ 450 Anti-Human HLA-DR (LN3)
SKU 75-9956-T025
Description
The LN3 antibody reacts with a member of the human MHC Class II antigens, HLA-DR. The HLA-DR antigen is expressed on human antigen presenting cells including B lymphocytes, monocytes, macrophages, dendritic cells, and activated T lymphocytes. HLA-DR is a dimeric protein composed of alpha and beta subunits and is involved in the presentation of peptide antigens to CD4+ T cells.
Name

violetFluor™ 450

 Anti-Human HLA-DR (LN3)
Cat. No.7
5-9956
Gene ID
3122
Clone
LN3
Isotype
Mouse IgG2b, kappa
Reactivity
Human
Format

violetFluor™ 450

Application
Flow Cytometry
Shipping
Price calculated at checkout.