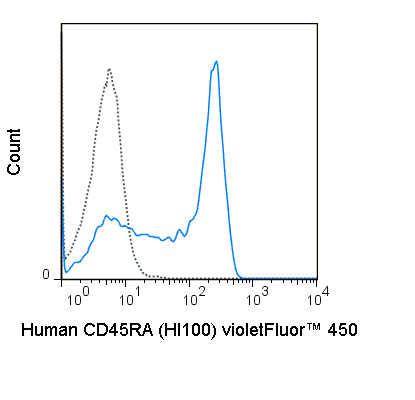 violetFluor™ 450 Anti-Human CD45RA (HI100)
SKU 75-0458-T025
Description
The HI100 antibody reacts with the human CD45 isoform known as CD45RA, a protein tyrosine phosphatase of ≥ 220 kDa. CD45 is one of the most abundant hematopoietic markers, and is expressed on all leukocytes (the Leukocyte Common Antigen, LCA). Various isoforms are generated and expressed in cell-specific patterns. With their broad cell distribution, CD45 isoforms are critical for many leukocyte functions, regulating signal transduction and cell activation associated with the T cell receptor, B cell receptor, and IL-2 receptor. Other forms of CD45, with restricted cellular expression, include CD45R (B220), CD45RB and CD45RO.
The HI100 antibody is widely used as a marker for human CD45RA expression on naïve and activated T cells, B cells, and monocytes.
Recent Publications:

Zhang AH, Yoon J, Kim YC, Scott DW. Targeting Antigen-Specific B Cells Using Antigen-Expressing Transduced Regulatory T Cells. J Immunol. 2018;201(5):1434-1441. doi:10.4049/jimmunol.1701800.
Schumann K, Lin S, Boyer E, Simeonov DR, Subramaniam M, Gate RE, Haliburton GE, Ye CJ, Blueston JA, Doudna JA and Marson A. 2015. Proc Natl Acad Sci USA. DOI: 10.1073/pnas.1512503112. (Flow Cytometry)
| | |
| --- | --- |
| Name | violetFluor™ 450 Anti-Human CD45RA (HI100) |
| Cat. No. | 75-0458 |
| Gene ID | 5788 |
| Clone | HI100 |
| Isotype | Mouse IgG2b, kappa |
| Reactivity | Human |
| Cross Reactivity | Chimpanzee |
| Format | violetFluor™ 450 |
| Application | Flow Cytometry |
Shipping
Price calculated at checkout.