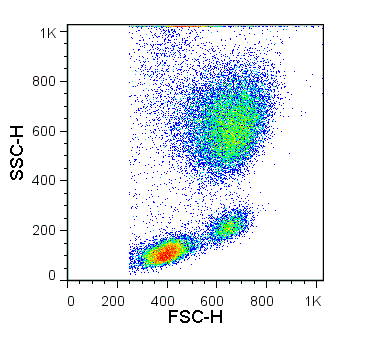 RBC Lysis Buffer (10X)
SKU TNB-4300-L100
Description
RBC Lysis Buffer (10X) is a concentrated ammonium chloride-based lysing reagent. The diluted 1X working solution will lyse red blood cells in single cell suspensions with minimal effects on leukocytes. RBC Lysis Buffer (10X) does not contain a fixative so the cells remain viable after red blood cell lysis.
Download the Lysing Protocol.
Recent Publications:
Picarda E, Galbo PM Jr, Zong H, Rajan MR, Wallenius V, Zheng D, Börgeson E, Singh R, Pessin J, Zang X. The immune checkpoint B7-H3 (CD276) regulates adipocyte progenitor metabolism and obesity development. Sci Adv. 2022 Apr 29;8(17):eabm7012. doi: 10.1126/sciadv.abm7012. Epub 2022 Apr 27. PMID: 35476450; PMCID: PMC9045715.
Zhou X, Fang D, Liu H, Ou X, Zhang C, Zhao Z, Zhao S, Peng J, Cai S, He Y, Xu J. PMN-MDSCs accumulation induced by CXCL1 promotes CD8+ T cells exhaustion in gastric cancer. Cancer Lett. 2022 Feb 14:215598. doi: 10.1016/j.canlet.2022.215598. Epub ahead of print. PMID: 35176418.
Young IC, Wu B, Andricovich J, Chuang ST, Li R, Tzatsos A, Wu RC, Wu MY. Differentiation of fetal hematopoietic stem cells requires ARID4B to restrict autocrine KITLG/KIT-Src signaling. Cell Rep. 2021 Nov 23;37(8):110036. doi: 10.1016/j.celrep.2021.110036. PMID: 34818550.
Fan Z, Jan S, Hickey JC, Davies DH, Felgner J, Felgner PL, Guan Z. Multifunctional Dendronized Polypeptides for Controlled Adjuvanticity. Biomacromolecules. 2021 Nov 17. doi: 10.1021/acs.biomac.1c01052. Epub ahead of print. PMID: 34788023.
Li X, Liu J, Xing Z, Tang J, Sun H, Zhang X, Lv S, Chen Z, Shi M, Chen M, Zuo S, Lyu X, He Y. Polymorphonuclear myeloid-derived suppressor cells link inflammation and damage response after trauma. J Leukoc Biol. 2021 Oct 12. doi: 10.1002/JLB.3MA0821-029R. Epub ahead of print. PMID: 34636072.
Prosser A, Dart S, Larma-Cornwall I, Lucas M. Flow cytometric characterization of tissue-resident lymphocytes after murine liver and heart transplantation. STAR Protoc. 2021 Sep 15;2(4):100810. doi: 10.1016/j.xpro.2021.100810. PMID: 34568841; PMCID: PMC8449134.
Bake S, Pinson MR, Pandey S, et al. Prenatal Alcohol-Induced Sex Differences in Immune, Metabolic and Neurobehavioral Outcomes in Adult Rats. Brain Behav Immun. 2021 Aug 11:S0889-1591(21)00497-9. doi: 10.1016/j.bbi.2021.08.207. PMID: 34390803.
Trott DW, Islam MT, Buckley DJ, Donato AJ, Dutson T, Sorensen ES, Cai J, Gogulamudi VR, Phuong TTT, Lesniewski LA. T lymphocyte depletion ameliorates age-related metabolic impairments in mice. Geroscience. 2021 Apr 24. doi: 10.1007/s11357-021-00368-4. PMID: 33893902.
Mi L, Wang Y, Xu H, Wang Y, Wu J, Dai H, Zhang Y. PRAK Promotes the Pathogen Clearance by Macrophage Through Regulating Autophagy and Inflammasome Activation. Front Immunol. 2021 Apr 16;12:618561. doi: 10.3389/fimmu.2021.618561. PMID: 33936034; PMCID: PMC8085562.
Xia L, Shi Y, Su J, Friedemann T, et al. Shufeng Jiedu, a promising herbal therapy for moderate COVID-19:Antiviral and anti-inflammatory properties, pathways of bioactive compounds, and a clinical real-world pragmatic study. Phytomedicine. 2020 Oct 22:153390. doi: 10.1016/j.phymed.2020.153390. PMID: 33158717; PMCID: PMC7581328. 
Jennifer S. Chen, Jessica D.S. Grassmann, Uthaman Gowthaman, Sam J. Olyha, Tregony Simoneau, M. Cecilia Berin, Stephanie C. Eisenbarth, Adam Williams. Flow cytometric identification of Tfh13 cells in mouse and human. Journal of Allergy and Clinical Immunology, 2020.  https://doi.org/10.1016/j.jaci.2020.04.063.
Jackson LP, Tjoa BA, Mellert H, Pestano GA. Development of a TCR beta repertoire assay for profiling liquid biopsies from NSCLC donors. Cancer Drug Resist 2020;3. http://dx.doi.org/10.20517/cdr.2020.07.
Kim IS, Gao Y, Welte T, et al. Immuno-subtyping of breast cancer reveals distinct myeloid cell profiles and immunotherapy resistance mechanisms. Nat Cell Biol. 2019;21(9):1113-1126. doi:10.1038/s41556-019-0373-7.
Shipping
Price calculated at checkout.