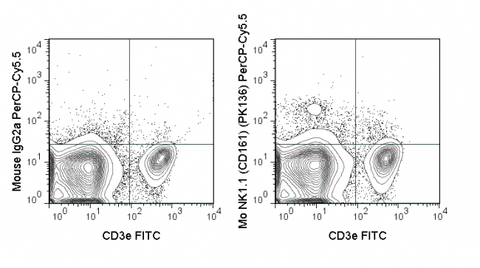 PerCP-Cyanine5.5 Anti-Mouse NK1.1 (CD161) (PK136)
SKU 65-5941-U025
Description
The PK136 antibody is specific for mouse NK1.1, a type II transmembrane lectin-like receptor and member of the killer cell lectin-like receptor (KLR) family. NK1.1 is prominently expressed on natural killer (NK) cells, and is correlated with NK cytotoxic effects toward virus-infected cells and tumor cells. NK1.1 is expressed on subsets of NKT cells in certain mouse strains (C57BL/6, FVB/N, and NZB), yet absent from others (AKR, BALB/c, CBA/J, C3H, DBA/1, DBA/2, NOD, SJL, and 129). Putative subsets of NK cells and their expression of NK1.1 antigen are of continuing interest, including NK1.1+/CD117+ (c-Kit) cells reported to be immunosuppressive for CD8+ T cells in a mechanism involving PD-1 and PD-L1 (Ehlers et al. 2012. Endocrinology. 10: 1247).
The PK136 antibody may be used for detection of NK1.1 expression on mouse strains including CE, B6, NZB, C58, Ma/My, ST, SJL, and FVB. The antibody is reported to react with an epitope common to NKR-P1B and NKR-P1C alloantigenic forms of NK1.1 (Carlyle et al. 2006. J. Immunol. 176: 7511-7524).
Recent Publications:
Stephens WZ, Kubinak JL, Ghazaryan A, Bauer KM, Bell R, Buhrke K, Chiaro TR, Weis AM, Tang WW, Monts JK, Soto R, Ekiz HA, O'Connell RM, Round JL. Epithelial-myeloid exchange of MHC class II constrains immunity and microbiota composition. Cell Rep. 2021 Nov 2;37(5):109916. doi: 10.1016/j.celrep.2021.109916. PMID: 34731608.
Sheppard S, Santosa EK, Lau CM, Violante S, Giovanelli P, Kim H, Cross JR, Li MO, Sun JC. Lactate dehydrogenase A-dependent aerobic glycolysis promotes natural killer cell anti-viral and anti-tumor function. Cell Rep. 2021 Jun 1;35(9):109210. doi: 10.1016/j.celrep.2021.109210. PMID: 34077737.
Wiedemann GM, Grassmann S, Lau CM, Rapp M, Villarino AV, Friedrich C, Gasteiger G, O'Shea JJ, Sun JC. Divergent Role for STAT5 in the Adaptive Responses of Natural Killer Cells. Cell Rep. 2020 Dec 15;33(11):108498. doi: 10.1016/j.celrep.2020.108498. PMID: 33326784. 
Diaz-Salazar C, Sun JC. Coordinated Viral Control by Cytotoxic Lymphocytes Ensures Optimal Adaptive NK Cell Responses. Cell Rep. 2020 Sep 22;32(12):108186. doi: 10.1016/j.celrep.2020.108186. PMID: 32966792. 
| | |
| --- | --- |
| Name | PerCP-Cyanine5.5 Anti-Mouse NK1.1 (CD161) (PK136) |
| Cat. No. | 65-5941 |
| Alternative Names | CD161, NKR-P1C, Ly-55 |
| Gene ID | 17059 |
| Clone | PK136 |
| Isotype | Mouse IgG2a, κ |
| Reactivity | Mouse |
| Format | PerCP-Cyanine5.5 |
| Application | Flow Cytometry |
Shipping
Price calculated at checkout.