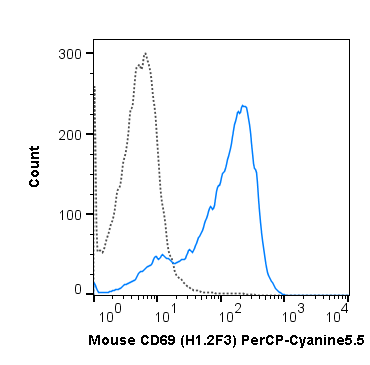 PerCP-Cyanine5.5 Anti-Mouse CD69 (H1.2F3)
SKU 65-0691-U025
Description
The H1.2F3 antibody reacts with mouse CD69, a type II transmembrane glycoprotein also known as the Very Early Activation Antigen, EA-1, Leu23, Activation Inducer Molecule (AIM) and CLEC2C. CD69 is expressed as a 60 kDa disulfide-linked homodimer on activated T and B cells, NK cells, neutrophils and monocytes. Induction occurs rapidly upon activation. It is also constitutively expressed on platelets and a subset of thymocytes. CD69 acts as a co-stimulatory molecule involved in activation and proliferation of T cells, and may be a marker for thymocytes undergoing TCR-mediated positive selection.
Co-stimulation with the H1.2F3 clone has been reported to enhance T cell and macrophage activation. Please choose the appropriate format for each application.
Name

PerCP-Cyanine5.5

 Anti-Mouse CD69 (H1.2F3)
Cat. No.
65-0691
Alternative Names
Very Early Activation Antigen (VEA), AIM, EA-1, Leu23, CLEC2C, MLR3, gp34/28
Gene ID
12515
Clone
H1.2F3
Isotype
Armenian Hamster IgG
Reactivity
Mouse
Format

PerCP-Cyanine5.5

Application
Flow Cytometry
Shipping
Price calculated at checkout.