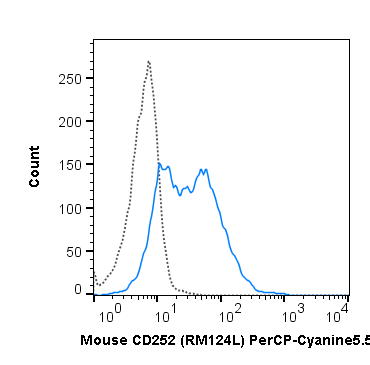 PerCP-Cyanine5.5 Anti-Mouse CD252 (OX40 Ligand) (RM134L)
SKU 65-5905-U025
Description
The RM134L antibody recognizes CD252, also known as OX-40 Ligand or CD134 Ligand, a member of the TNF-α superfamily that is present on the surface of antigen presenting cells and activated B lymphocytes. The OX-40 Ligand interacts with OX-40 (CD134) which is expressed primarily on activated T cells. This costimulatory interaction leads to increased proliferation and IL-2 production responses of activated T cells, and at the same time enhances proliferation and immunoglobulin secretion by activated B cells.
The RM134L antibody is useful for flow cytometric detection of CD252 on stimulated mouse splenocytes. It has also been reported to block the costimulatory activity of ≥≥OX-40 Ligand. Please choose the appropriate format for each application.
| | |
| --- | --- |
| Name | PerCP-Cyanine5.5 Anti-Mouse CD252 (OX40 Ligand) (RM134L) |
| Cat. No. | 65-5905 |
| Alternative Names | CD134L, CD134 Ligand, OX-40L, OX-40 Ligand, TNF-αSF4, Tumor necrosis factor ligand superfamily member 4, gp34 |
| Gene ID | 22164 |
| Clone | RM134L |
| Isotype | Rat IgG2b, κ |
| Reactivity | Mouse |
| Format | PerCP-Cyanine5.5 |
| Application | Flow Cytometry |
Shipping
Price calculated at checkout.