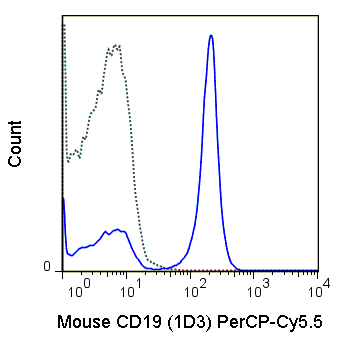 PerCP-Cyanine5.5 Anti-Mouse CD19 (1D3)
SKU 65-0193-U025
Description
The 1D3 antibody reacts with mouse CD19, a 95 kDa glycoprotein which acts as a co-receptor, along with CD21 and CD81, in support of the functional B cell receptor (BCR). This complex provides antigen-specific recognition and subsequent activation of B cells to proliferate and differentiate into antibody-secreting cells (plasma cells) or memory B cells, which are crucial for secondary antigen encounter. CD19 is a lineage-differentiation marker, as its expression is detectable at the earliest B cell stages, through development, and is finally lost upon transition to mature plasma cells. The 1D3 antibody is widely used as a phenotypic marker for CD19 expression on B cells, as well as on dendritic cell subsets.
Recent Citations:
Stephens WZ, Kubinak JL, Ghazaryan A, Bauer KM, Bell R, Buhrke K, Chiaro TR, Weis AM, Tang WW, Monts JK, Soto R, Ekiz HA, O'Connell RM, Round JL. Epithelial-myeloid exchange of MHC class II constrains immunity and microbiota composition. Cell Rep. 2021 Nov 2;37(5):109916. doi: 10.1016/j.celrep.2021.109916. PMID: 34731608.
| | |
| --- | --- |
| Name | PerCP-Cyanine5.5 Anti-Mouse CD19 (1D3) |
| Cat. No. | 65-0193 |
| Alternative Names | Leu-12, B4 |
| Gene ID | 12478 |
| Clone | 1D3 |
| Isotype | Rat IgG2a, κ |
| Reactivity | Mouse |
| Format | PerCP-Cyanine5.5 |
| Application | Flow Cytometry |
Shipping
Price calculated at checkout.