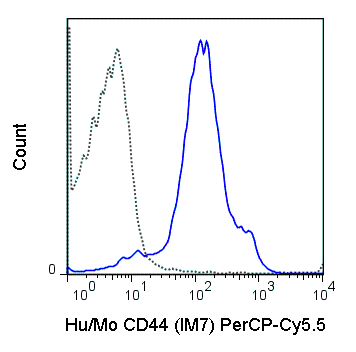 PerCP-Cyanine5.5 Anti-Human/Mouse CD44 (IM7)
SKU 65-0441-U025
Description
The IM7 antibody recognizes CD44, a ubiquitously expressed cell surface receptor which is important for extracellular matrix organization, cell-cell and cell-matrix adhesion and migration. CD44 may be expressed in a number of different isoforms (splice variants) from the most typical or "standard" form, known as CD44s, to variants designated CD44v, e.g. CD44v1 or CD44v6. These receptors interact with several ligands, but most often associate with an extracellular matrix component hyaluronate, through which it mediates adhesion.
The IM7 antibody may be used for detection of all isoforms of CD44, as it recognizes constant epitopes near the extracellular proximal domain. (Xu et al, 2002, J. Leukoc. Biol. 72:1133-1141). It has been reported to be cross-reactive with many non-human species including Baboon, Chimpanzee, Cynomolgus, Rhesus, Horse, Cow, Pig, Dog and Cat CD44.
Recent Citations:
Brian BF 4th, Sauer ML, Greene JT, Senevirathne SE, Lindstedt AJ, Funk OL, Ruis BL, Ramirez LA, Auger JL, Swanson WL, Nunez MG, Moriarity BS, Lowell CA, Binstadt BA, Freedman TS. A dominant function of LynB kinase in preventing autoimmunity. Sci Adv. 2022 Apr 22;8(16):eabj5227. doi: 10.1126/sciadv.abj5227. Epub 2022 Apr 22. PMID: 35452291.
Trott DW, Islam MT, Buckley DJ, Donato AJ, Dutson T, Sorensen ES, Cai J, Gogulamudi VR, Phuong TTT, Lesniewski LA. T lymphocyte depletion ameliorates age-related metabolic impairments in mice. Geroscience. 2021 Apr 24. doi: 10.1007/s11357-021-00368-4. PMID: 33893902.
| | |
| --- | --- |
| Name | PerCP-Cyanine5.5 Anti-Human/Mouse CD44 (IM7) |
| Cat. No. | 65-0441 |
| Alternative Names | Pgp-1, MDU3, Hermes, Hyaluronate receptor |
| Gene ID | 12505 |
| Clone | IM7 |
| Isotype | Rat IgG2b, κ |
| Reactivity | Human, Mouse |
| Cross Reactivity | Baboon, Canine, Chimpanzee, Cynomolgus, Equine, Feline, Rhesus, Swine |
| Format | PerCP-Cyanine5.5 |
| Application | Flow Cytometry |
Shipping
Price calculated at checkout.