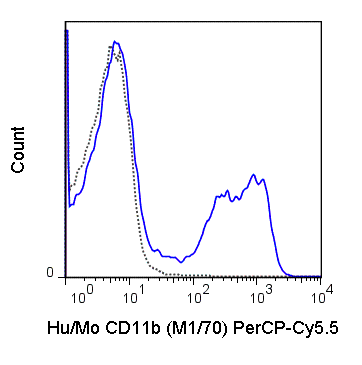 PerCP-Cyanine5.5 Anti-Human/Mouse CD11b (M1/70)
SKU 65-0112-U025
Description
The M1/70 antibody reacts with human and mouse CD11b, also known as integrin αalpha M. This 165-170 kDa cell surface glycoprotein is part of a family of integrin αreceptors that mediate adhesion between ≥ ≥ ≥ cells (cell-cell) and components of the extracellular matrix, e.g. fibrinogen (cell-matrix). In addition, integrin αs are active signaling receptors which recruit leukocytes to inflammatory sites and promote cell activation. Complete, functional integrin αreceptors consist of distinct combinations of integrin αchains which are differentially expressed. integrin αalpha M (CD11b) assembles with integrin αbeta-2 (CD18) into a receptor known as Macrophage Antigen-1 (Mac-1) or complement receptor type 3 (CR3). This receptor binds and induces intracellular signaling through ICAM-1 on endothelial cells and can also facilitate removal of iC3b bearing foreign cells.
The M1/70 antibody is widely used as a marker for CD11b expression on mouse macrophages, granulocytes, neutrophils, and NK cells. The antibody is also reported to be cross-reactive for Rhesus macaque CD11b.
Recent Publications:

Hinke DM, Andersen TK, Gopalakrishnan RP, Skullerud LM, Werninghaus IC, Grødeland G, Fossum E, Braathen R, Bogen B. Antigen bivalency of antigen-presenting cell-targeted vaccines increases B cell responses. Cell Rep. 2022 May 31;39(9):110901. doi: 10.1016/j.celrep.2022.110901. PMID: 35649357.
Rivera-Torruco G, Martínez-Mendiola CA, Angeles-Floriano T, Jaimes-Ortega GA, Maravillas-Montero JL, García-Contreras R, González Y, Juárez E, Nava P, Ortiz-Navarrete V, Medina-Contreras O, Licona-Limón P, Valle-Rios R. Isthmin 1 is Expressed by Progenitor-Like Cells in the Lung: Phenotypical Analysis of Isthmin 1+ Hematopoietic Stem-Like Cells in Homeostasis and during Infection. J Immunol Res. 2022 Apr 1;2022:2909487. doi: 10.1155/2022/2909487. PMID: 35402623; PMCID: PMC8993550.
Hiroshi Kobayashi and Keiyo Takubo. Protocol for the Maintenance of Quiescent Murine Hematopoietic Stem Cells. STAR Protocols.  Published 2 August 2020. https://doi.org/10.1016/j.xpro.2020.100078. 
Andersen TK, Huszthy PC, Gopalakrishnan RP, et al. Enhanced germinal center reaction by targeting vaccine antigen to major histocompatibility complex class II molecules. NPJ Vaccines. 2019;4:9. Published 2019 Feb 11. doi:10.1038/s41541-019-0101-0.
Kobayashi H, Morikawa T, Okinaga A, et al. Environmental Optimization Enables Maintenance of Quiescent Hematopoietic Stem Cells Ex Vivo. Cell Rep. 2019;28(1):145-158.e9. doi:10.1016/j.celrep.2019.06.008.
Udden SN, Kwak YT, Godfrey V, et al. NLRP12 suppresses hepatocellular carcinoma via downregulation of cJun N-terminal kinase activation in the hepatocyte. Elife. 2019;8:e40396. Published 2019 Apr 16. doi:10.7554/eLife.40396.
Abe Y, Kamachi F, Kawamoto T, Makino F, Ito J, Kojima Y, Moustapha AEDH, Usui Y, Yagita H, Takasaki Y, Okumura K and Akiba H. 2013. J. Immunol. 191:4562-4572. (Flow Cytometry)
| | |
| --- | --- |
| Name | PerCP-Cyanine5.5 Anti-Human/Mouse CD11b (M1/70) |
| Cat. No. | 65-0112 |
| Alternative Names | Mac-1, integrin α?M, CR3, ITGAM |
| Gene ID | 16409 / 3684 |
| Clone | M1/70 |
| Isotype | Rat IgG2b, κ |
| Reactivity | Human, Mouse |
| Cross Reactivity | Chimpanzee, Baboon, Cynomolgus, Rhesus |
| Format | PerCP-Cyanine5.5 |
| Application | Flow Cytometry |
Shipping
Price calculated at checkout.