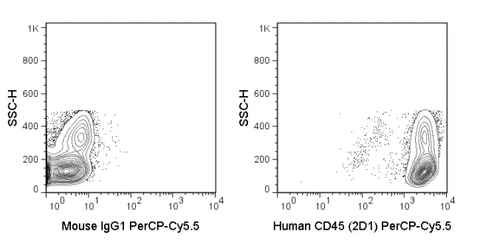 PerCP-Cyanine5.5 Anti-Human CD45 (2D1)
SKU 65-9459-T025
Description
The 2D1 antibody reacts with human CD45, one of the most abundant hematopoietic markers and one that is expressed on all leukocytes (the Leukocyte Common Antigen, LCA). CD45 is a protein tyrosine phosphatase existing in several isoforms, each being generated and expressed in cell-specific patterns. With its broad cell distribution, CD45 is critical for many leukocyte functions, regulating signal transduction and cell activation associated with the T cell receptor, B cell receptor, and IL-2 receptor. Other forms of CD45, with restricted cellular expression, include CD45R (B220), CD45RA, CD45RB, and CD45RO.
The 2D1 antibody is widely used as a marker for human CD45 expression on peripheral blood T cells, B cells, monocytes, macrophages, and NK cells.
| | |
| --- | --- |
| Name | PerCP-Cyanine5.5 Anti-Human CD45 (2D1) |
| Cat. No. | 65-9459 |
| Alternative Names | Leukocyte Common Antigen, LCA, Ly-5, Hle-1 |
| Gene ID | 5788 |
| Clone | 2D1 |
| Isotype | Mouse IgG1, kappa |
| Reactivity | Human |
| Format | PerCP-Cyanine5.5 |
| Application | Flow Cytometry |
Shipping
Price calculated at checkout.