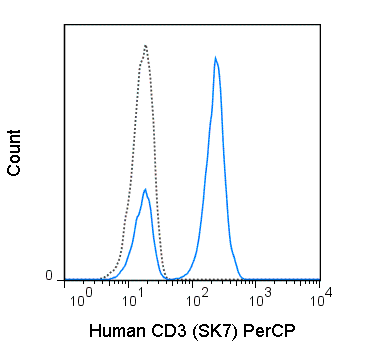 PerCP Anti-Human CD3 (SK7)
SKU 67-0036-T025
Description
The SK7 antibody is specific for human CD3e, also known as CD3 epsilon, a 20 kDa subunit of the T cell receptor complex, along with CD3 gamma and CD3 delta. These integral membrane protein chains assemble with additional chains of the T cell receptor (TCR), as well as CD3 zeta chain, to form the T cell receptor – CD3 complex. Together with co-receptors CD4 or CD8, the complex serves to recognize antigens bound to MHC molecules on antigen-presenting cells. These interactions promote T cell receptor signaling (T cell activation), inducing cell proliferation, differentiation, production of cytokines or activation-induced cell death. CD3 is differentially expressed during thymocyte-to-T cell development and on all mature T cells.
The SK7 antibody is a widely used phenotypic marker for human T cells. This antibody may induce T cell activation in the presence of monocytes. The antibody has also been demonstrated to be cross-reactive with Chimpanzee CD3. Binding of clone SK7 can be blocked by an alternative Anti-Human CD3 clone, OKT3. Please choose the appropriate format for each application.
| | |
| --- | --- |
| Name | PerCP Anti-Human CD3 (SK7) |
| Cat. No. | 67-0036 |
| Alternative Names | Leu-4, T3 |
| Gene ID | 916 |
| Clone | SK7 |
| Isotype | Mouse IgG1, kappa |
| Reactivity | Human |
| Cross Reactivity | Chimpanzee |
| Format | PerCP |
| Application | Flow Cytometry |
Shipping
Price calculated at checkout.