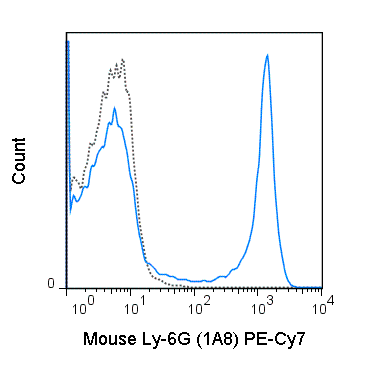 PE-Cyanine7 Anti-Mouse Ly-6G (1A8)
SKU 60-1276-U025
Description
The 1A8 antibody binds to mouse Ly-6G, a member of the Ly-6 superfamily of GPI-anchored cell surface proteins with roles in cell signaling and cell adhesion. Ly-6G is differentially expressed during development and maturation of cells in the myeloid lineage and is expression at varying stages and levels on monocytes, macrophages, granulocytes, and peripheral neutrophils.
In the mouse, the 1A8 antibody is typically used in combination with the macrophage labeling antibody M1/70 (Anti-CD11b) for phenotypic analysis of monocytes, macrophages and granulocytes. Note: for identification of Ly-C, an alternative antibody, clone RB6-8C5, has been reported to cross-react with Ly-6C on cells expressing this antigen (Fleming et al. 1993. J. Immunol. 151:2399-2408 and Sasmono et al. 2007. J. Leukoc. Biol. 82: 111-123) and has been cited in the literature for identification of Ly-6G/Ly-6C.
Recent Publications:
Lin CC, Bradstreet TR, Schwarzkopf EA, Jarjour NN, Chou C, Archambault AS, Sim J, Zinselmeyer BH, Carrero JA, Wu GF, Taneja R, Artyomov MN, Russell JH and Edelson BT. 2016. J Exp Med. 213(2): 251-271. (Flow Cytometry)
| | |
| --- | --- |
| Name | PE-Cyanine7 Anti-Mouse Ly-6G (1A8) |
| Cat. No. | 60-1276 |
| Gene ID | 546644 |
| Clone | 1A8 |
| Isotype | Rat IgG2a, κ |
| Reactivity | Mouse |
| Format | PE-Cyanine7 |
| Application | Flow Cytometry |
Shipping
Price calculated at checkout.