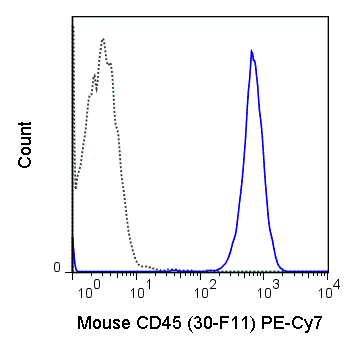 PE-Cyanine7 Anti-Mouse CD45 (30-F11)
SKU 60-0451-U025
Description
The 30-F11 antibody reacts with mouse CD45, which is one of the most abundant hematopoietic markers and is expressed on all leukocytes (the Leukocyte Common Antigen, LCA). CD45 is a protein tyrosine phosphatase existing in several isoforms, each being generated and expressed in cell-specific patterns. With its broad cell distribution, CD45 is critical for many leukocyte functions, regulating signal transduction and cell activation associated with the T cell receptor, B cell receptor, and IL-2 receptor. Other forms of CD45, with restricted cellular expression, include CD45R (B220), CD45RA, CD45RB, CD45RO and others.
The 30-F11 antibody is widely used as a leukocyte marker for B cells, T cell subsets and NK cell subsets.
Recent Citations:
Stephens WZ, Kubinak JL, Ghazaryan A, Bauer KM, Bell R, Buhrke K, Chiaro TR, Weis AM, Tang WW, Monts JK, Soto R, Ekiz HA, O'Connell RM, Round JL. Epithelial-myeloid exchange of MHC class II constrains immunity and microbiota composition. Cell Rep. 2021 Nov 2;37(5):109916. doi: 10.1016/j.celrep.2021.109916. PMID: 34731608.
Zhu Q, Ma Y, Liang J, Wei Z, Li M, Zhang Y, Liu M, He H, Qu C, Cai J, Wang X, Zeng Y, Jiao Y. AHR mediates the aflatoxin B1 toxicity associated with hepatocellular carcinoma. Signal Transduct Target Ther. 2021 Aug 9;6(1):299. doi: 10.1038/s41392-021-00713-1. PMID: 34373448.
| | |
| --- | --- |
| Name | PE-Cyanine7 Anti-Mouse CD45 (30-F11) |
| Cat. No. | 60-0451 |
| Alternative Names | Leukocyte Common Antigen, LCA, Ly-5 |
| Gene ID | 19264 |
| Clone | 30-F11 |
| Isotype | Rat IgG2b, κ |
| Reactivity | Mouse |
| Format | PE-Cyanine7 |
| Application | Flow Cytometry |
Shipping
Price calculated at checkout.