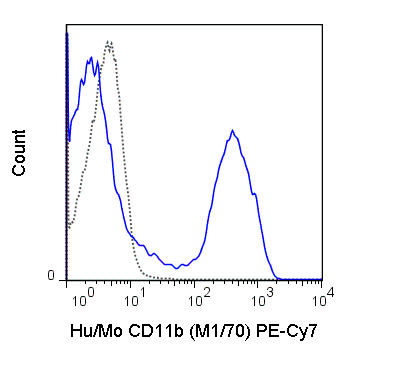 PE-Cyanine7 Anti-Human/Mouse CD11b (M1/70)
SKU 60-0112-U025
Description
The M1/70 antibody reacts with human and mouse CD11b, also known as integrin αalpha M. This 165-170 kDa cell surface glycoprotein is part of a family of integrin αreceptors that mediate adhesion between ≥ ≥ ≥ cells (cell-cell) and components of the extracellular matrix, e.g. fibrinogen (cell-matrix). In addition, integrin αs are active signaling receptors which recruit leukocytes to inflammatory sites and promote cell activation. Complete, functional integrin αreceptors consist of distinct combinations of integrin αchains which are differentially expressed. integrin αalpha M (CD11b) assembles with integrin αbeta-2 (CD18) into a receptor known as Macrophage Antigen-1 (Mac-1) or complement receptor type 3 (CR3). This receptor binds and induces intracellular signaling through ICAM-1 on endothelial cells and can also facilitate removal of iC3b bearing foreign cells.
The M1/70 antibody is widely used as a marker for CD11b expression on mouse macrophages, granulocytes, neutrophils, and NK cells. The antibody is also reported to be cross-reactive for Rhesus macaque CD11b.
Recent Citations:
Stephens WZ, Kubinak JL, Ghazaryan A, Bauer KM, Bell R, Buhrke K, Chiaro TR, Weis AM, Tang WW, Monts JK, Soto R, Ekiz HA, O'Connell RM, Round JL. Epithelial-myeloid exchange of MHC class II constrains immunity and microbiota composition. Cell Rep. 2021 Nov 2;37(5):109916. doi: 10.1016/j.celrep.2021.109916. PMID: 34731608.
| | |
| --- | --- |
| Name | PE-Cyanine7 Anti-Human/Mouse CD11b (M1/70) |
| Cat. No. | 60-0112 |
| Alternative Names | Mac-1, integrin α?M, CR3, ITGAM |
| Gene ID | 16409 / 3684 |
| Clone | M1/70 |
| Isotype | Rat IgG2b, κ |
| Reactivity | Human, Mouse |
| Cross Reactivity | Chimpanzee, Baboon, Cynomolgus, Rhesus |
| Format | PE-Cyanine7 |
| Application | Flow Cytometry |
Shipping
Price calculated at checkout.