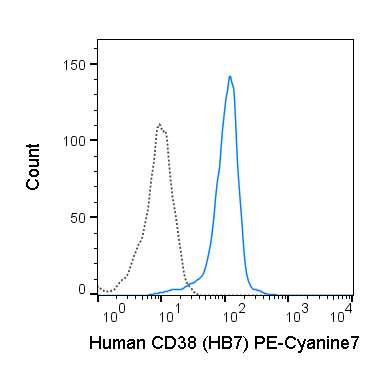 PE-Cyanine7 Anti-Human CD38 (HB7)
SKU 60-0388-T025
Description
The HB7 antibody is specific for human CD38, a 45 kDa type II transmembrane glycoprotein expressed on thymocytes, plasma cells, and monocytes as well as other non-hematopoietic cells. T and B lymphocyte expression is discontinuous and varies based on differentiation state – present on immature cells, low on intermediate stages, and high on activated mature cells. It is found on most CD34+ cells, but not on pluripotent stem cells. CD38 is an ectoenzyme that functions to catalyze the synthesis and hydrolysis of cyclic ADP-ribose and is involved in cell signaling, regulating cell adhesion, and activation. Additionally, CD38 has been shown to be a prognostic marker for some leukemias and other diseases.
Name

PE-Cyanine7

 Anti-Human CD38 (HB7)
Cat. No.
60-0388
Alternative Names
T10, ADP-ribosyl cyclase, cyclic ADP ribose hydrolase
Gene ID
952
Clone
HB7
Isotype
Mouse IgG1, kappa
Reactivity
Human
Format

PE-Cyanine7

Application
Flow Cytometry
Shipping
Price calculated at checkout.