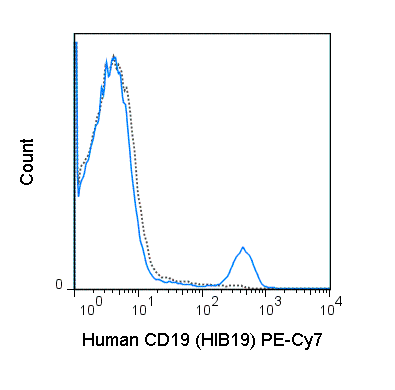 PE-Cyanine7 Anti-Human CD19 (HIB19)
SKU 60-0199-T025
Description
The HIB19 antibody reacts with human CD19, a 95 kDa glycoprotein which acts as a co-receptor, along with CD21, CD81 and CD225, in support of the functional B cell receptor (BCR). This complex provides antigen-specific recognition and subsequent activation of B cells to proliferate and differentiate into antibody-secreting cells (plasma cells) or memory B cells, which are crucial for secondary antigen encounter. CD19 is a lineage-differentiation marker, as its expression is detectable at the earliest B cell stages, through development, and is finally lost upon transition to mature plasma cells.
The HIB19 antibody is widely used as a phenotypic marker for CD19 expression on B cells, as well as on dendritic cell subsets.
Recent Publications:

Moroney JB, Vasudev A, Pertsemlidis A, Zan H, Casali P. Integrative transcriptome and chromatin landscape analysis reveals distinct epigenetic regulations in human memory B cells. Nat Commun. 2020 Oct 28;11(1):5435. doi: 10.1038/s41467-020-19242-6. PMID: 33116135.
Roa, J.A., Sarkar, D., Zanaty, M. et al. Preliminary results in the analysis of the immune response after aneurysmal subarachnoid hemorrhage. Sci Rep 10, 11809 (2020). https://doi.org/10.1038/s41598-020-68861-y.
Diaz-Flores E, Comeaux EQ, Kim KL, et al. Bcl-2 Is a Therapeutic Target for Hypodiploid B-Lineage Acute Lymphoblastic Leukemia. Cancer Res. 2019;79(9):2339-2351. doi:10.1158/0008-5472.CAN-18-0236.
Ryotokuji K, Nakajima T, Ishimaru K, Ozaki-Shimada A, Kihara K, Namiki Y and Otani S. 2015. Laser Therapy. 24(3): 179-188. (Flow Cytometry)
| | |
| --- | --- |
| Name | PE-Cyanine7 Anti-Human CD19 (HIB19) |
| Cat. No. | 60-0199 |
| Alternative Names | Leu-12, B4 |
| Gene ID | 930 |
| Clone | HIB19 |
| Isotype | Mouse IgG1, kappa |
| Reactivity | Human |
| Format | PE-Cyanine7 |
| Application | Flow Cytometry |
Shipping
Price calculated at checkout.