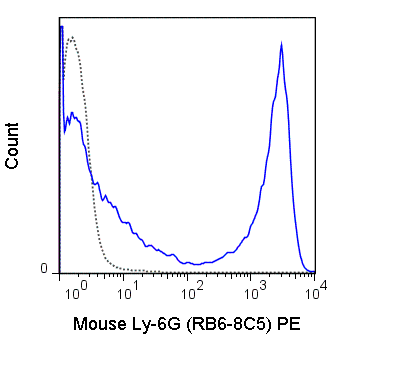 PE Anti-Mouse Ly-6G/Ly-6C (Gr-1) (RB6-8C5)
SKU 50-5931-U025
Description
The RB6-8C5 antibody binds to mouse Ly-6G/Ly-6C, commonly known as Gr-1, a member of the Ly-6 superfamily of GPI-anchored cell surface proteins with roles in cell signaling and cell adhesion. Gr-1 is differentially expressed during development and maturation of cells in the myeloid lineage and is expressed at varying stages and levels on monocytes, macrophages, granulocytes, and peripheral neutrophils.
Recent Citations:
Jester BW, Zhao H, Gewe M, Adame T, Perruzza L, Bolick DT, Agosti J, Khuong N, Kuestner R, Gamble C, Cruickshank K, Ferrara J, Lim R, Paddock T, Brady C, Ertel S, Zhang M, Pollock A, Lee J, Xiong J, Tasch M, Saveria T, Doughty D, Marshall J, Carrieri D, Goetsch L, Dang J, Sanjaya N, Fletcher D, Martinez A, Kaldis B, Sigmar K, Afreen E, Nguyen T, Randolph A, Taber A, Krzeszowski A, Robinett B, Volkin DB, Grassi F, Guerrant R, Takeuchi R, Finrow B, Behnke C, Roberts J. Development of spirulina for the manufacture and oral delivery of protein therapeutics. Nat Biotechnol. 2022 Mar 21. doi: 10.1038/s41587-022-01249-7. Epub ahead of print. PMID: 35314813.
Sugimoto Y, Endo D, Aratani Y. Mice Deficient in NOX2 Display Severe Thymic Atrophy, Lymphopenia, and Reduced Lymphopoiesis in a Zymosan-Induced Model of Systemic Inflammation. Inflammation. 2020 Sep 16. doi: 10.1007/s10753-020-01342-6. PMID: 32939668.  
| | |
| --- | --- |
| Name | PE Anti-Mouse Ly-6G (Gr-1) (RB6-8C5) |
| Cat. No. | 50-5931 |
| Alternative Names | Gr1, Ly6G |
| Gene ID | 17067 |
| Clone | RB6-8C5 |
| Isotype | Rat IgG2b, κ |
| Reactivity | Mouse |
| Format | PE |
| Application | Flow Cytometry |
Shipping
Price calculated at checkout.