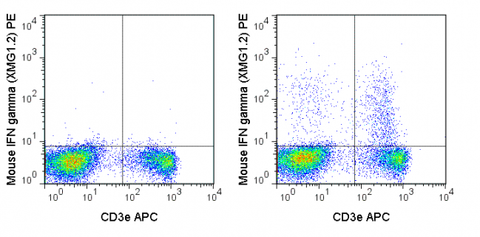 PE Anti-Mouse IFN gamma (XMG1.2)
SKU 50-7311-U025
Description
The XMG1.2 antibody is specific for mouse Interferon-gamma (IFN-g), a 20 kDa type II cytokine known for its central roles in protection against bacterial or viral pathogens and for its anti-tumor properties. IFN-g is secreted by several types of immune cells which allow the cytokine to modulate innate immunity when secreted by NK and NKT cells, and to function in support of adaptive immunity when secreted by Th1 and CD8+ T cells (CTLs).
The XMG1.2 antibody is suitable for detection of intracellular IFN-g protein by flow cytometry. Other formats can be used for quantitative analysis of the secreted protein by ELISA when paired with an appropriate capture antibody. This clone has been reported for neutralization of the functional activity of ≥≥IFN-g in a variety of assays (use format suitable for functional assays).
Recent Citations:
Dikiy S, Li J, Bai L, Jiang M, Janke L, Zong X, Hao X, Hoyos B, Wang ZM, Xu B, Fan Y, Rudensky AY, Feng Y. A distal Foxp3 enhancer enables interleukin-2 dependent thymic Treg cell lineage commitment for robust immune tolerance. Immunity. 2021 May 11;54(5):931-946.e11. doi: 10.1016/j.immuni.2021.03.020. Epub 2021 Apr 9. PMID: 33838102; PMCID: PMC8317508.
| | |
| --- | --- |
| Name | PE Anti-Mouse IFN gamma (XMG1.2) |
| Cat. No. | 50-7311 |
| Alternative Names | IFN-g, IFNg, Interferon-g, Immune interferon, Type II interferon, T cell interferon, Macrophage-activating factor (MAF) |
| Gene ID | 15978 |
| Clone | XMG1.2 |
| Isotype | Rat IgG1, kappa |
| Reactivity | Mouse |
| Format | PE |
| Application | Flow Cytometry |
Shipping
Price calculated at checkout.