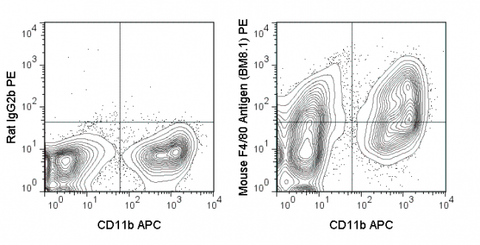 PE Anti-Mouse F4/80 Antigen (BM8.1)
SKU 50-4801-U025
Description
The BM8.1 antibody is specific for mouse F4/80 antigen, a 125 kDa transmembrane protein widely expressed by members of the mononuclear phagocyte system and considered to be a key marker for mature macrophage cells. F4/80 is differentially expressed during myeloid cell development, and may be regulated by certain cytokines within the tissue microenvironment. Other cell types shown to express this antigen include Langerhans cells, Kupffer cells and dendritic cell subsets. BM8.1 is widely used together with antibodies to CD115 (c-fms), CD11b and CD11c to identify myeloid / macrophage cells by flow cytometry.
Recent Publications:

Pingili AK, Chaib M, Sipe LM, et al. Immune checkpoint blockade reprograms systemic immune landscape and tumor microenvironment in obesity-associated breast cancer. Cell Rep. 2021 Jun 22;35(12):109285. doi: 10.1016/j.celrep.2021.109285. PMID: 34161764.
Ishida Y, Kuninaka Y, Nosaka M, et al. Prevention of CaCl2-induced aortic inflammation and subsequent aneurysm formation by the CCL3-CCR5 axis. Nat Commun. 2020 Nov 25;11(1):5994. doi: 10.1038/s41467-020-19763-0. PMID: 33239616.
Saeki N, Imai Y. Reprogramming of synovial macrophage metabolism by synovial fibroblasts under inflammatory conditions. Cell Commun Signal. 2020 Nov 30;18(1):188. doi: 10.1186/s12964-020-00678-8. PMID: 33256735; PMCID: PMC7708128. 
Wang H, Najibi AJ, Sobral MC, et al. Biomaterial-based scaffold for in situ chemo-immunotherapy to treat poorly immunogenic tumors. Nat Commun. 2020 Nov 10;11(1):5696. doi: 10.1038/s41467-020-19540-z. PMID: 33173046; PMCID: PMC7655953.
Sardari M, Skuljec J, Yin D, et al. Lipopolysaccharide-induced sepsis-like state compromises post-ischemic neurological recovery, brain tissue survival and remodeling via mechanisms involving microvascular thrombosis and brain T cell infiltration. Brain Behav Immun. 2020 Oct 22:S0889-1591(20)32365-5. doi: 10.1016/j.bbi.2020.10.015. PMID: 33122024. 
Singh V, Holla S, Ramachandra SG and Balaji KN. 2015.   J. Immunol. doi: 10.4049/jimmunol.1402498 (Flow cytometry)
| | |
| --- | --- |
| Name | PE Anti-Mouse F4/80 Antigen (BM8.1) |
| Cat. No. | 50-4801 |
| Alternative Names | EMR1, Ly71 |
| Gene ID | 13733 |
| Clone | BM8.1 |
| Isotype | Rat IgG2b, κ |
| Reactivity | Mouse |
| Format | PE |
| Application | Flow Cytometry |
Shipping
Price calculated at checkout.