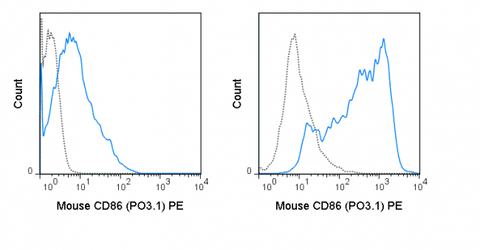 PE Anti-Mouse CD86 (B7-2) (PO3.1)
SKU 50-0861-U025
Description
The PO3.1 antibody reacts with mouse CD86, also known as B7-2, an 80 kDa cell surface protein which is a ligand for CD28, a co-stimulatory receptor for the T cell receptor (TCR). CD28 can also bind a second B7 ligand known as CD80 (B7-1). Both CD80 and CD86 are expressed on activated B cells and antigen-presenting cells. These ligands trigger CD28 signaling in concert with TCR activation to drive T cell proliferation, induce high-level expression of IL-2, impart resistance to apoptosis, and enhance T cell cytotoxicity. The interaction / co-stimulatory signaling between ≥ ≥ ≥ the B7 ligands and CD28 provides crucial communication between ≥ ≥ ≥ T cells and B cells or APCs to coordinate the adaptive immune response.
The PO3.1 antibody may be used as a marker for CD86 expression on B cells, macrophages, and dendritic cells.
Recent Citations:
Brian BF 4th, Sauer ML, Greene JT, Senevirathne SE, Lindstedt AJ, Funk OL, Ruis BL, Ramirez LA, Auger JL, Swanson WL, Nunez MG, Moriarity BS, Lowell CA, Binstadt BA, Freedman TS. A dominant function of LynB kinase in preventing autoimmunity. Sci Adv. 2022 Apr 22;8(16):eabj5227. doi: 10.1126/sciadv.abj5227. Epub 2022 Apr 22. PMID: 35452291.
| | |
| --- | --- |
| Name | PE Anti-Mouse CD86 (B7-2) (PO3.1) |
| Cat. No. | 50-0861 |
| Alternative Names | B7.2, B70, Ly-58 |
| Gene ID | 12524 |
| Clone | PO3.1 |
| Isotype | Rat IgG2b, κ |
| Reactivity | Mouse |
| Format | PE |
| Application | Flow Cytometry |
Shipping
Price calculated at checkout.