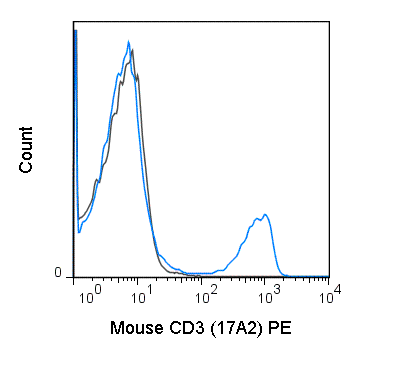 PE Anti-Mouse CD3 (17A2)
SKU 50-0032-U025
Description
The 17A2 antibody reacts with the mouse CD3 complex, comprised of CD3 epsilon, CD3 gamma and CD3 delta. These integral membrane protein chains assemble with additional chains of the T cell receptor (TCR), as well as CD3 zeta chain, to form the T cell receptor – CD3 complex. Together with co-receptors CD4 or CD8, the complex serves to recognize antigens bound to MHC molecules on antigen-presenting cells. Such interactions promote T cell receptor signaling (T cell activation) and can result in a number of cellular responses including proliferation, differentiation, production of cytokines or activation-induced cell death. CD3 is differentially expressed during thymocyte-to-T cell development and on all mature T cells.
The 17A2 antibody is a widely used phenotypic marker for mouse T cells. In addition, as the CD3e chain within the TCR complex contains intracellular signaling domains, binding of 17A2 antibody to CD3 can induce cell activation (use format suitable for functional assays). A recent publication of the crystal structure of a murine CD3e-mitogenic antibody complex provides further insight into the action of commonly used agonist antibodies (Fernandes, R.A. et al. 2012. Journal of Biological Chemistry. 287: 13324-13335).
| | |
| --- | --- |
| Name | PE Anti-Mouse CD3 (17A2) |
| Cat. No. | 50-0032 |
| Alternative Names | CD3 epsilon |
| Gene ID | 12502 |
| Clone | 17A2 |
| Isotype | Rat IgG2b, κ |
| Reactivity | Mouse |
| Format | PE |
| Application | Flow Cytometry |
Shipping
Price calculated at checkout.