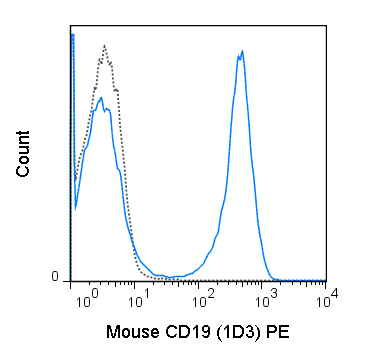 PE Anti-Mouse CD19 (1D3)
SKU 50-0193-U025
Description
The 1D3 antibody reacts with mouse CD19, a 95 kDa glycoprotein which acts as a co-receptor, along with CD21 and CD81, in support of the functional B cell receptor (BCR). This complex provides antigen-specific recognition and subsequent activation of B cells to proliferate and differentiate into antibody-secreting cells (plasma cells) or memory B cells, which are crucial for secondary antigen encounter. CD19 is a lineage-differentiation marker, as its expression is detectable at the earliest B cell stages, through development, and is finally lost upon transition to mature plasma cells. The 1D3 antibody is widely used as a phenotypic marker for CD19 expression on B cells, as well as on dendritic cell subsets.
Recent Publications:

Clark NM, Martinez LM, Murdock S, deLigio JT, Olex AL, Effi C, Dozmorov MG, Bos PD. Regulatory T Cells Support Breast Cancer Progression by Opposing IFN-γ-Dependent Functional Reprogramming of Myeloid Cells. Cell Rep. 2020 Dec 8;33(10):108482. doi: 10.1016/j.celrep.2020.108482. PMID: 33296659.
Xia L, Shi Y, Su J, Friedemann T, et al. Shufeng Jiedu, a promising herbal therapy for moderate COVID-19:Antiviral and anti-inflammatory properties, pathways of bioactive compounds, and a clinical real-world pragmatic study. Phytomedicine. 2020 Oct 22:153390. doi: 10.1016/j.phymed.2020.153390. PMID: 33158717; PMCID: PMC7581328. 
Weber A, Pawar HN, Klein JR. Thyroid stimulating hormone β-subunit splice variant is expressed in all fractional subsets of bone marrow hematopoietic cells and peripheral blood leukocytes and is modulated during bacterial infection. Gen Comp Endocrinol. 2020 Apr 30:113495. doi: 10.1016/j.ygcen.2020.113495
Qiumei Du, Ashley R. Hoover, Igor Dozmorov, Ondine B. Cleaver,Joshua T. Mendell, Nicolai S.C. van Oers. MIR205HG Is a Long Noncoding RNA that Regulates Growth Hormone and Prolactin Production in the Anterior Pituitary. Dev Cell. 2019 May 20;49(4):618-631.e5. doi: 10.1016/j.devcel.2019.03.012

» View on PubMed
Ortega SB, Noorbhai I, Poinsatte K, Kong X, Anderson A, Monson NL and Stowe AM. 2015. Discov Med. 19(106): 381-392. (Flow Cytometry)
| | |
| --- | --- |
| Name | PE Anti-Mouse CD19 (1D3) |
| Cat. No. | 50-0193 |
| Alternative Names | Leu-12, B4 |
| Gene ID | 12478 |
| Clone | 1D3 |
| Isotype | Rat IgG2a, κ |
| Reactivity | Mouse |
| Format | PE |
| Application | Flow Cytometry |
Shipping
Price calculated at checkout.