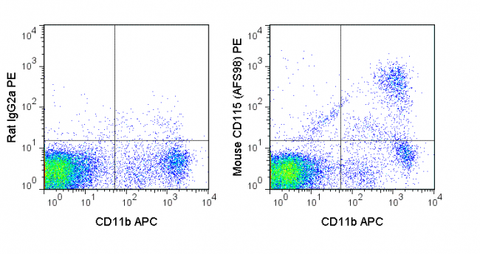 PE Anti-Mouse CD115 (c-fms) (AFS98)
SKU 50-1152-U025
Description
The AFS98 antibody is specific for mouse CD115, also known as Colony-Stimulating Factor-1 Receptor (CSF-1R), a 145 kDa receptor from the PDGF receptor family. Receptor activation by the ligands IL-34 or CSF-1 (M-CSF) occurs via homodimerization of CD115 and subsequent tyrosine phosphorylation and ubiquitination of intracellular domains. CD115 signaling promotes differentiation of myeloid precursors, as well as the continued regulation of proliferation, survival and function of mononuclear phagocytes, dendritic cells and osteoclasts. While IL-34 and CSF-1 may induce similar cellular responses, they are differentially expressed and as such exert complimentary actions via CD115.
The AFS98 antibody may be used for identification of myeloid lineage cells by flow cytometry, and is commonly used for in vivo or in vitro neutralization of CSF-1 Receptor (use format appropriate for functional assays).
Recent Publications:
Grajales-Reyes GE, Iwata A, Albring J, Wu X, Tussiwand R, Kc W, Kretzer NM, Briseno CG, Durai V, Bagadia P, Haldar M, Schonheit J, Rosenbauer F, Murphy TL and Murphy KM. 2015.  Nat Immunol. 16(7): 708-717. (Flow Cytometry)
| | |
| --- | --- |
| Name | PE Anti-Mouse CD115 (c-fms) (AFS98) |
| Cat. No. | 50-1152 |
| Alternative Names | CSF-1-R, FMS, Colony-Stimulating Factor 1 Receptor, M-CSF Receptor, CSF1R |
| Gene ID | 12978 |
| Clone | AFS98 |
| Isotype | Rat IgG2a, κ |
| Reactivity | Mouse |
| Format | PE |
| Application | Flow Cytometry |
Shipping
Price calculated at checkout.