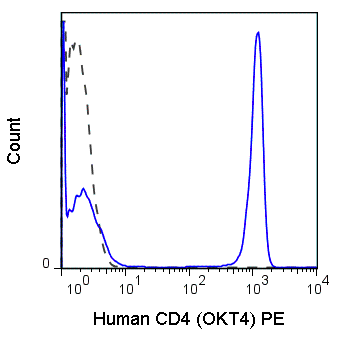 PE Anti-Human CD4 (OKT4)
SKU 50-0048-T025
Description
The OKT4 antibody reacts with human CD4, a 59 kDa protein which acts as a co-receptor for the T cell receptor (TCR) in its interaction with MHC Class II molecules on antigen-presenting cells. The extracellular domain of CD4 binds to the beta-2 domain of MHC Class II, while its cytoplasmic tail provides a binding site for the tyrosine kinase lck, facilitating the signaling cascade that initiates T cell activation. CD4, and co-receptors CCR5 and CXCR4, may also be utilized by HIV-1 to enter T cells. Human CD4 is typically expressed on thymocytes, some mature T cell populations such as Th17 and T regulatory (Treg) cells, as well as on dendritic cells.
The OKT4 antibody is widely used as a phenotypic marker for CD4 expression. It is cross-reactive with CD4 in several non-human species, including Chimpanzee, Cynomolgus and Rhesus. This antibody recognizes a different epitope, and thus does not block binding of, the alternative Anti-Human CD4 antibody clone RPA-T4 (Reinherz EL, et al. 1979. Proc. Natl. Acad. Sci. 76:4061-4065)
| | |
| --- | --- |
| Name | PE Anti-Human CD4 (OKT4) |
| Cat. No. | 50-0048 |
| Alternative Names | Leu-3, T4 |
| Gene ID | 920 |
| Clone | OKT4 |
| Isotype | Mouse IgG2b, kappa |
| Reactivity | Human |
| Cross Reactivity | Chimpanzee, Cynomolgus, Rhesus |
| Format | PE |
| Application | Flow Cytometry |
Shipping
Price calculated at checkout.