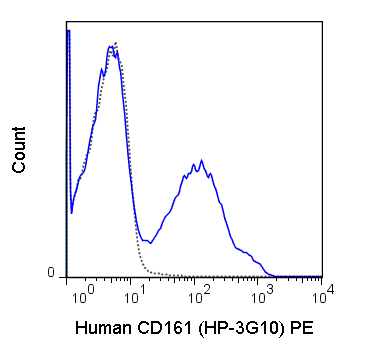 PE Anti-Human CD161 (HP-3G10)
SKU 50-1619-T025
Description
The HP-3G10 antibody is specific for human CD161, also known as NKR-P1A, a type II transmembrane lectin-like receptor and member of the killer cell lectin-like receptor (KLR) family. CD161 exists as a homodimer which is prominently expressed on natural killer (NK) and NKT cells, where it is proposed to regulate the function of both cell types. CD161 is also found on T cell subsets, including T regulatory cells (Tregs), memory/effector CD4+ T cells, and CD8+ T cells. Th17 cells have been demonstrated to co-express CD161, as surface IL-17A+ cells are contained within the CD161+ fraction of CD4 T cells, so that CD161 (in combination with CCR6) is often used as a marker for enrichment of Th17 cells.
The HP-3G10 antibody may be used for flow cytometric analysis of CD161 on NK and NKT cells, as well as on various T cell subsets. The antibody is also reported to be cross-reactive with Baboon, Chimpanzee and Rhesus CD161.
Recent Publications:

Roa, J.A., Sarkar, D., Zanaty, M. et al. Preliminary results in the analysis of the immune response after aneurysmal subarachnoid hemorrhage. Sci Rep 10, 11809 (2020). https://doi.org/10.1038/s41598-020-68861-y.
Ryotokuji K, Nakajima T, Ishimaru K, Ozaki-Shimada A, Kihara K, Namiki Y and Otani S. 2015. Laser Therapy. 24(3): 179-188. (Flow Cytometry)
| | |
| --- | --- |
| Name | PE Anti-Human CD161 (HP-3G10) |
| Cat. No. | 50-1619 |
| Alternative Names | NKR-P1A, NKRP1A |
| Gene ID | 3820 |
| Clone | HP-3G10 |
| Isotype | Mouse IgG1, kappa |
| Reactivity | Human |
| Cross Reactivity | Chimpanzee, Baboon, Rhesus |
| Format | PE |
| Application | Flow Cytometry |
Shipping
Price calculated at checkout.