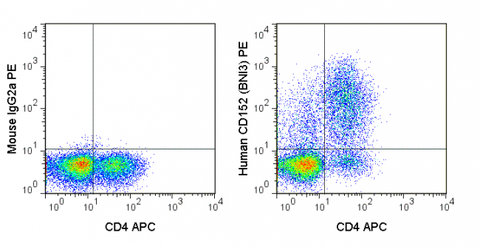 PE Anti-Human CD152 (CTLA-4) (BNI3)
SKU 50-1529-T025
Description
The BNI3 antibody is specific for human CD152, commonly known as CTLA-4, a 33-37 kDa protein expressed as a homodimer on the surface of activated T and B cells, and on thymocytes. CTLA-4 is structurally similar, yet functionally disparate, to the T cell co-stimulatory molecule CD28. Both CTLA-4 and CD28 interact with the co-stimulatory molecules CD80 (B7-1) and CD86 (B7-2) on antigen-presenting cells, with CTLA-4 displaying a higher avidity than CD28. While CD28 typically delivers a potent co-stimulatory signal in support of T cell activation, CTLA-4 appears to act as a negative regulator of T cell activation and may contribute to the suppressor function of Treg cells.
CTLA-4 proteins may be initially sequestered within Golgi vesicles, from which they can be transferred to and from the cell surface, a mechanism by which Treg cells can selectively impart suppressive functions. The BNI3 antibody may be used for flow cytometric analysis of intracellular or surface CTLA-4 expression, and is also widely used for neutralization of CTLA-4 when expressed at the cell surface. The BNI3 antibody is reported to be cross-reactive with Baboon, Cynomolgus and Rhesus CTLA-4. Please choose the appropriate format for each application.
| | |
| --- | --- |
| Name | PE Anti-Human CD152 (CTLA-4) (BNI3) |
| Cat. No. | 50-1529 |
| Alternative Names | Cytotoxic T-Lymphocyte Antigen 4, CTLA4 |
| Gene ID | 1493 |
| Clone | BNI3 |
| Isotype | Mouse IgG2a, κ |
| Reactivity | Human |
| Cross Reactivity | Baboon, Cynomolgus, Rhesus |
| Format | PE |
| Application | Flow Cytometry |
Shipping
Price calculated at checkout.