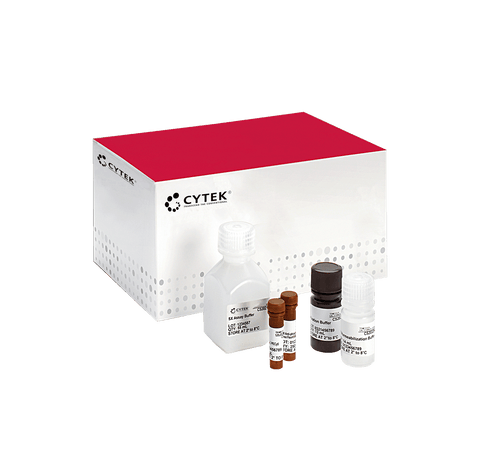 Muse® Multi-Color DNA Damage Kit
Description
The Muse® Multi-Color DNA Damage kit - 50 Tests (Part Number: MCH200107) is designed to enable researchers to have a quick and easy way to detect the activation of ATM and H2A.X using the Guava® Muse® cell analyzer. The kit was optimized using a DNA damaging reagent, Etoposide, on HeLa cells as a model system, but can be used with other human cell lines to investigate both the physical and chemical factors that can induce a DNA damage response through the ATM-dependent signaling pathway. Data generated using the Muse system provides statistical values, measuring the:

Percentage of negative cells (e.g., no DNA damage)
Percentage of ATM activated cells
Percentage of H2A.X activated cells
Percentage of DNA double-strand breaks (dual activation of both ATM and H2A.X)
The Muse Multi-Color DNA Damage kit includes two directly conjugated antibodies-a phospho-specific ATM (Ser1981)-PE and a phospho-specific Histone H2A.X PECy5 conjugated antibody-to measure the extent of DNA damage in testing samples. This two-color kit is designed to detect the phosphorylation state of ATM and Histone H2A.X simultaneously by flow analysis. Together, two-color analysis of ATM and Histone H2A.X activation in multiplex provides a more reliable detection method for assessing the DNA damage signaling pathway. This antibody pair provides a sensitive and valuable tool to study the factors that induce DNA damage and affect DNA repair, allowing exploration of the relationship between DNA damage, cell cycle checkpoints, and initiation of apoptosis. Both antibodies provided in the kit are carefully titrated and optimized together to ensure exceptional performance when run in multiplex, alleviating the need for any additional optimization. This kit contains optimized fixation, permeabilization, and assay buffers to provide researchers with a complete solution for DNA damage signaling analysis.

The Muse Multi-Color DNA Damage kit is optimized for use on the Muse system, which makes sophisticated, fluorescent-based analysis fast, easy, convenient, and affordable. Sample preparation is minimal, and after loading samples onto the Muse cell analyzer, the intuitive software provides detailed or summary analysis of your cell sample in a few short steps.
PRODUCT DETAILS
Application:        Flow Cytometry
Storage:              See Documentation
Data Sheets:       QRC
EXAMPLE DATA
For Research Use Only. Not intended for use in diagnostic procedures.