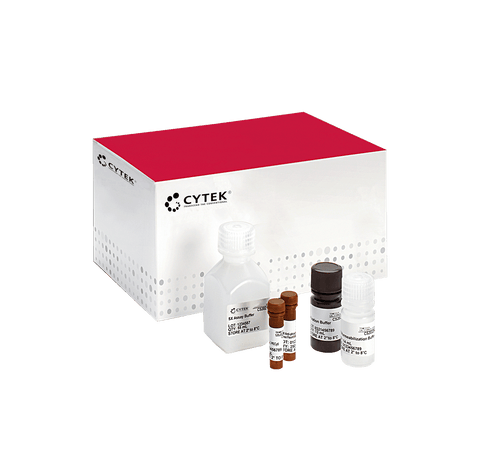 Muse® EGFR-RTK Activation Dual Detection Kit
Description
The Muse® EGFR-RTK Activation Dual Detection kit is part of a series of products that include a pair of antibodies which bind to the same protein; one antibody detects total protein expression and the other detects the phosphorylated form of the same target.
Two-parameter analysis allows for specific detection of phosphorylation and eliminates false positives, enhancing the signal-to-noise ratio. The Muse EGFR-RTK Activation Dual Detection kit includes two directly conjugated antibodies-a phospho-specific anti-phospho-EGFR (Tyr1173)-Alexa Fluor® 555 and an anti-EGFR-PECy5 conjugated antibody-to measure total levels of EGFR expression. This two-color kit is designed to detect EGFR pathway activation by measuring EGFR phosphorylation relative to the total EGFR expression in any given cell population. By doing this, the levels of both the total and phosphorylated protein can be measured simultaneously in the same cell, resulting in a normalized and accurate measurement of EGFR activation after stimulation. Moreover, simultaneous measurement of both total and phospho-EGFR confirms target specificity of the phosphorylation event.

All Muse Activation Dual Detection kits are optimized and designed for use on the Guava® Muse® cell analyzer. Both antibodies provided in the kit are carefully titrated and optimized together to ensure exceptional performance when run in multiplex, alleviating the need for any additional optimization. This kit contains optimized fixation, permeabilization, and assay buffers to provide researchers with a complete solution for EGFR signaling analysis. Data generated using the Muse system provides statistical values, measuring the:

Percentage of inactivated cells
Percentage of activated cells (via phosphorylation)
Percentage of non-expressing cells
PRODUCT DETAILS
Application:        Flow Cytometry
Storage:              See Documentation
Data Sheets:       QRC
EXAMPLE DATA
For Research Use Only. Not intended for use in diagnostic procedures.