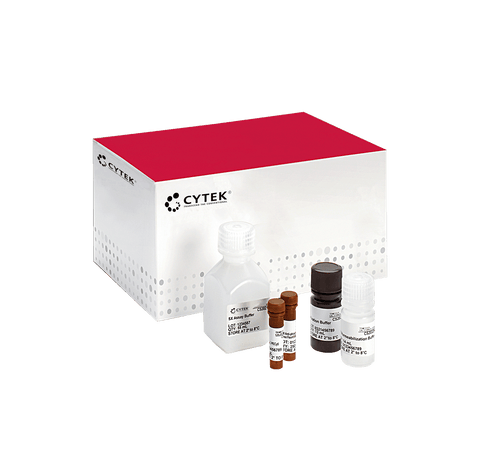 Muse® Caspase-3/7 Kit
Description
The Muse® Caspase-3/7 kit allows for the simple, rapid, and quantitative measurement of two important cell health parameters simultaneously:

Apoptotic status, based on Caspase-3/7 activation
Cell death, measured by cellular plasma membrane permeabilization
The kit provides the relative percentages of live, early and late apoptotic, and dead cells when using both adherent and suspension lines on the Guava® Muse® cell analyzer. Minimal sample preparation is required in this no-wash, mix-and-read kit, making it easy to obtain accurate and precise results. Data generated using the Muse cell analyzer provides statistical values, measuring the:

Percentage of live, early and late apoptotic, total apoptotic, and dead cells
Cell concentration (cells/mL) for live, early apoptotic, late apoptotic, and dead cells
The Muse Caspase-3/7 kit was developed and optimized for use on the Muse system, which makes sophisticated, fluorescent-based analysis fast, easy, convenient, and affordable. Sample preparation is minimal, and after loading samples onto the Muse cell analyzer, intuitive software provides detailed or summary analysis of your cell sample in a few short steps.
PRODUCT DETAILS
Application:        Flow Cytometry
Storage:               See Documentation
Data Sheets:      QRC
EXAMPLE DATA
For Research Use Only. Not intended for use in diagnostic procedures.