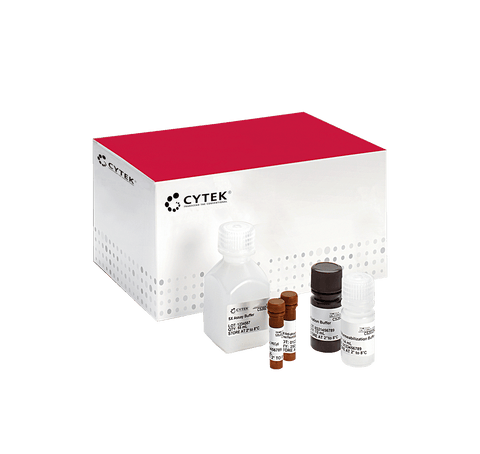 Muse® Bcl-2 Activation Dual Detection Kit
Description
The Muse® Bcl-2 Activation Dual Detection kit is part of a series of products that include a pair of antibodies which bind to the same protein; one antibody detects total protein expression and the other detects the phosphorylated form of the same target.

Two-parameter analysis allows for specific detection of phosphorylation and eliminates false positives, enhancing the signal-to-noise ratio. The Muse Bcl-2 Activation Dual Detection kit includes two directly conjugated antibodies-a phospho-specific anti-phospho-Bcl-2 (Ser70)-Alexa Fluor® 555 and an anti-Bcl-2-PECy5 conjugated antibody-to measure total levels of Bcl-2 expression. This two-color kit is designed to detect Bcl-2 pathway activation by measuring Bcl-2 phosphorylation relative to the total Bcl-2 expression in any given cell population. By doing this, the levels of both the total and phosphorylated protein can be measured simultaneously in the same cell, resulting in a normalized and accurate measurement of Bcl-2 activation after treatment. Moreover, simultaneous measurement of both total and phospho-Bcl-2 confirms target specificity of the phosphorylation event. Together, a total and phospho antibody duo performed in multiplex provides enhanced and more reliable detection of the phospho:total ratio within a mixed cell population.

All Muse Activation Dual Detection kits are optimized and designed for use on the Guava® Muse® cell analyzer. The antibody pair provided in the kit has been carefully titrated to ensure the ability to measure total and phospho-Bcl-2 simultaneously on the same protein for accurate determination of protein level and activation. This kit contains optimized fixation, permeabilization, and assay buffers to provide researchers with a complete solution for Bcl-2 signaling analysis. Data generated using the Muse system provides statistical values, measuring the:

Percentage of inactivated cells
Percentage of activated cells (via phosphorylation)
Percentage of non-expressing cells
PRODUCT DETAILS
Application:        Flow Cytometry
For Research Use Only. Not intended for use in diagnostic procedures.