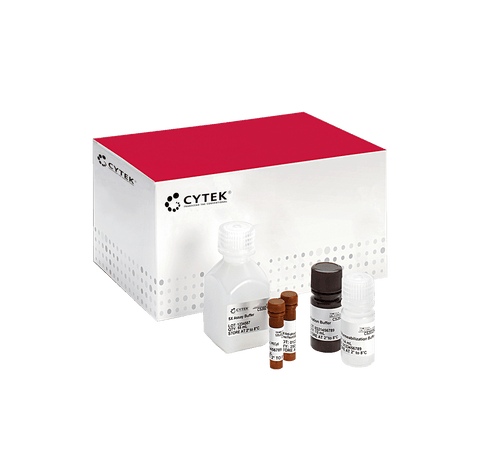 Muse® Autophagy LC3-Antibody Based Kit
Description
The Muse® Autophagy LC3-Antibody based kit provides a quantitative solution for studying autophagy. This kit contains two key detection reagents to facilitate the monitoring of lipidated LC3-II in a given cell system, and works by:

Employing a selective permeabilization solution to discriminate cytosolic LC3 from autophagic LC3 by extracting the soluble cytosolic proteins while protecting LC3, which has been sequestered into the autophagosome
Utilizing an autophagy detection reagent (Autophagy Reagent A) to prevent the lysosomal degradation of LC3, allowing for its quantification by flow cytometry
The Muse Autophagy LC3-Antibody based kit includes an anti-LC3 mouse monoclonal antibody conjugated to Alexa Fluor® 555 to measure and track the levels of LC3 within the cell. The anti-LC3 Alexa Fluor® 555 conjugated antibody and autophagy enabling reagents have been carefully evaluated to ensure optimal performance, alleviating the need for any additional validation of the kit reagents. In addition to reagents A and B, this kit includes an assay buffer to provide researchers a complete solution for autophagy analysis. The autophagy detection reagents and antibody have been optimized together to deliver a reliable way to measure and discriminate between cytosolic and lipidated LC3, providing accurate measurements of the autophagic process. Data generated using the Guava® Muse® cell analyzer along with the corresponding Muse software module provides statistical values, measuring:

Mean autophagy value (for both control and test samples)
Autophagy induction ratio (test sample fluorescence relative to control)
Percentage of cells with increased autophagy (test sample versus control)
The Muse Autophagy LC3-Antibody based kit is optimized for use with the Muse system, which makes sophisticated, fluorescent-based analysis fast, easy, convenient, and affordable. Sample preparation is minimal, and after loading samples onto the Muse cell analyzer, the intuitive software provides detailed or summary analysis of your cell sample in a few short steps.
PRODUCT DETAILS
Application:        Flow Cytometry
Storage:              See Documentation
EXAMPLE DATA
For Research Use Only. Not intended for use in diagnostic procedures.