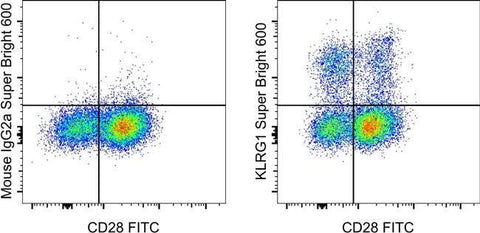 KLRG1 Monoclonal Antibody (13F12F2), Super Bright™ 600, eBioscience™
SKU 63-9488-42
Description
PRODUCT DETAILS
Host: Mouse
Isotype: IgG2a, kappa
Clonality: Monoclonal
Clone: 13F12F2
Format: Super Bright™ 600
Reactivity: Human
Application: Flow Cytometry
Tested Dilution: 5 µL (0.25 µg)/test
Concentration: 5 µL/Test
Storage: 4° C, store in dark, DO NOT FREEZE!
Formulation: PBS, pH 7.2, containing 0.09% sodium azide
Purification: Affinity chromatography
Data Sheet: TDS
Specific Information
Description: This 13F12F2 monoclonal antibody reacts with human killer cell lectin-like receptor subfamily G, member 1 (KLRG1), a type II transmembrane inhibitor receptor of the C-type lectin superfamily that contains an ITIM domain. This inhibitory receptor is expressed on subsets of gamma-delta T cells, NK (CD56dim), CD8+ and CD4+ T Cells. KLRG1 is expressed primarily by cells with an effector/memory phenotype that are short-lived, but capable of immediate effector cell function. Cadherin-E, -N, and -R are ligands for KLRG1. Cadherin/KLRG1 interaction inhibits cytolytic activity and proliferation. The percentage of KLRG1 positive cells can vary considerably, depending on antigen experience.
The clones 13F12F2 and 13A2 appear to recognize a similar epitope based on cross-blocking studies.
For Research Use Only. Not for use in diagnostic procedures. Not for resale without express authorization.
Shipping
Price calculated at checkout.