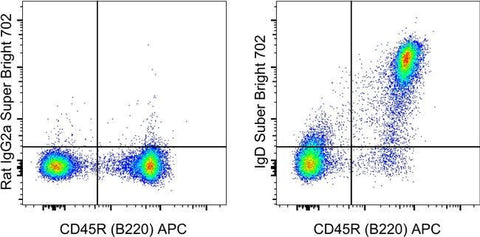 IgD Monoclonal Antibody (11-26c (11-26)), Super Bright™ 702, eBioscience™
SKU 67-5993-82
Description
PRODUCT DETAILS
Host: Rat
Isotype: IgG2a, kappa
Clonality: Monoclonal
Clone: 11-26c (11-26)
Format: Super Bright™ 702
Reactivity: Mouse
Application: Flow Cytometry
Tested Dilution: 0.125 µg/test
Concentration: 0.2 mg/mL
Storage: 4° C, store in dark, DO NOT FREEZE!
Formulation: PBS, pH 7.2, containing 0.09% sodium azide
Purification: Affinity chromatography
Data Sheet: TDS
Specific Information
Description: The 11-26c monoclonal antibody reacts with the delta heavy chain of mouse IgD. It does not react with other classes of mouse immunoglobulin including IgA, IgG or IgM. IgD is expressed by peripheral mature B cells. 11-26c does not activate B cells.
For Research Use Only. Not for use in diagnostic procedures. Not for resale without express authorization.
Shipping
Price calculated at checkout.