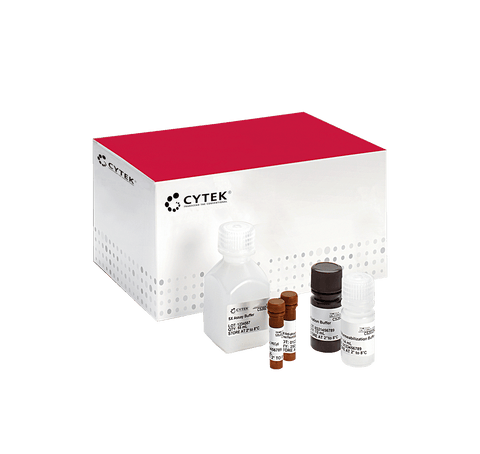 Guava® Nexin Reagent
Description
The Guava® Nexin reagent offers a simple, reproducible, and sensitive assessment of early apoptosis. The Guava Nexin reagent is a mix-and-read assay, for monitoring externalization of phosphatidylserine (PS) through the binding of Annexin V to the exposed PS. Annexin V is a calcium-dependent phospholipid-binding protein with high affinity for phosphatidylserine (PS)-a membrane component normally localized to the internal side of the cell membrane. Early in the apoptotic pathway, molecules of PS are translocated to the outer surface of the cell membrane where Annexin V can readily bind to them.

The assay relies on a two-dye strategy:

Annexin V-PE, which binds to PS on the external membrane of apoptotic cells
7-AAD, a fluorescent DNA intercalator that is membrane impermeant and is therefore excluded from live, healthy, and early apoptotic cells, but permeates late-stage apoptotic and dead cells
PRODUCT DETAILS
Application:        Flow Cytometry
Storage:              See Documentation
Data Sheets:       SDS
EXAMPLE DATA
For Research Use Only. Not intended for use in diagnostic procedures.