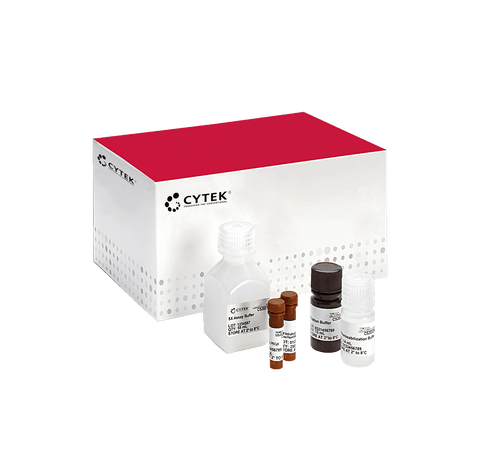 Guava® MitoDamage Kit
Description
The Guava® MitoDamage kit includes:

MitoSense Red, a fluorescent cationic dye that accumulates in the mitochondria and indicates changes in mitochondrial potential. MitoSense Red is excitable by a red laser, with peak fluorescence at 650 nm. Uninduced cells with an intact mitochondrial membrane potential demonstrate high red off red fluorescence, while cells that have an impaired mitochondrial membrane potential give off lower red off red fluorescence.
Annexin V conjugated to the green fluourescent dye CF® 488A, which binds to phosphatidylserine (PS) on the surface of apoptotic cells. Annexin V is a calcium-dependent phospholipid binding protein with a high affinity for PS-a membrane component normally localized to the internal side of the cell membrane. It is conjugated to CF® 488A, which is excited by a 488 nm laser and emits at 525 nm. Control cells do not exhibit green fluorescence, while apoptotic cells demonstrate positive green fluorescence.
7-Aminoactinomycin-D (7-AAD), a fluorescent DNA intercalator that is membrane impermeant (and therefore binds to dead cells). The 7-AAD dye included in the kit monitors cell membrane permeability changes typically observed later in apoptosis, as well as necrotic cell death. 7-AAD is excluded from live, healthy cells as well as early apoptotic cells-these cells have low red fluorescence.
Together, these reagents allow researchers to obtain information on mitochondrial stress, as well as early, mid, and late apoptosis, in one simple assay.
The kit can distinguish multiple populations:

Live cells with intact mitochondrial membrane
Cells with dissipated membrane potential but no Annexin V or 7-AAD staining
Early apoptotic cells with dissipated membrane potential and Annexin V binding
Late apoptotic cells and dead cells with dissipated membrane potentials
The Guava MitoDamage kit provides a complete picture of mitochondrial and cell health, allowing correlation of mitochondrial damage to cell health. The entire assay can be performed in less than 30 minutes once samples are ready.
PRODUCT DETAILS
Application:        Flow Cytometry
Storage:              See Documentation
EXAMPLE DATA
For Research Use Only. Not intended for use in diagnostic procedures.