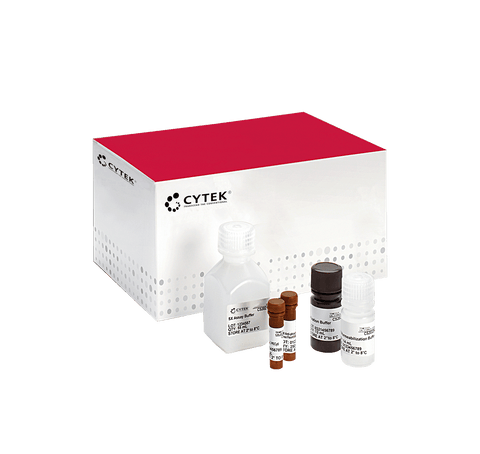 Guava® Autophagy LC3 Antibody-Based Detection Kit
Description
The Guava® Autophagy LC3 Antibody-Based Detection kit provides a quantitative solution to study autophagy and evaluate autophagy inducers using flow cytometry. This kit contains two key detection reagents to facilitate the monitoring of lipidated LC3-II in a given cell system:

A selective permeabilization solution discriminates cytosolic LC3 from autophagic LC3 by extracting the soluble cytosolic proteins while protecting LC3, which has been sequestered into the autophagosome
An autophagy detection reagent (Autophagy Reagent A), which will prevent the lysosomal degradation of LC3, allowing for its quantification by flow cytometry
Autophagy is an intracellular catabolic pathway that causes cellular protein and organelle turnover and is associated with a range of diseases. It is a tightly regulated process that plays a normal part in cell growth, development, and cellular homeostasis. Autophagy is a housekeeping mechanism that works by disposing of aging and dysfunctional proteins and organelles through sequestering, and by priming proteins for lysosomal degradation. Malfunctions in the autophagy process are proposed to influence cell health longevity as well as contribute to cell death.

During autophagy, the LC3 protein is translocated from the cytoplasm to the autophagosome, where it is targeted for degradation.
PRODUCT DETAILS
Application:        Flow Cytometry
Storage:              See Documentation
EXAMPLE DATA
For Research Use Only. Not intended for use in diagnostic procedures.