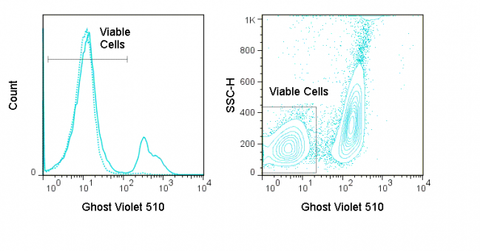 Ghost Dye™ Violet 510
SKU 13-0870-T100
Description
Ghost Dye™ Violet 510 is an amine reactive viability dye that can be used to discriminate viable from non-viable mammalian cells in flow cytometry applications. This dye irreversibly binds free amines available on the cell surface as well as intracellular free amines exposed in cells with compromised cell membranes. Necrotic cells with compromised membranes will react with significantly more Ghost Dye™ Violet 510 dye than viable cells in the same sample and therefore will exhibit much greater fluorescence intensity allowing exclusion of these cells from analysis.
I recently obtained an aliquot of Ghost Dye 510 from my core flow lab. I titrated the reagent against a mixture of heat-killed and untreated PBMC. Spooooky Bright! I will be replacing my current Live/Dead indicator with the Ghost Dye 510.
Cindy L. Zuleger, Ph.D.
University of Wisconsin
Recent Publications:
Anvari S, Watkin LB, Minard CG, Schuster K, Hassan O, Anagnostou A, Orange JS, Corry DB, Davis CM. Reduced pro-inflammatory dendritic cell phenotypes are a potential indicator of successful peanut oral immunotherapy. PLoS One. 2022 May 26;17(5):e0264674. doi: 10.1371/journal.pone.0264674. PMID: 35617270; PMCID: PMC9135258.
Rivet-Noor CR, Merchak AR, Li S, Beiter RM, Lee S, Thomas JA, Fernández-Castañeda A, Shin JB, Gaultier A. Stress-induced despair behavior develops independently of the Ahr-RORγt axis in CD4 + cells. Sci Rep. 2022 May 21;12(1):8594. doi: 10.1038/s41598-022-12464-2. PMID: 35597802; PMCID: PMC9124178.
Taniguchi H, Caeser R, Chavan SS, Zhan YA, Chow A, Manoj P, Uddin F, Kitai H, Qu R, Hayatt O, Shah NS, Quintanal Villalonga Á, Allaj V, Nguyen EM, Chan J, Michel AO, Mukae H, de Stanchina E, Rudin CM, Sen T. WEE1 inhibition enhances the antitumor immune response to PD-L1 blockade by the concomitant activation of STING and STAT1 pathways in SCLC. Cell Rep. 2022 May 17;39(7):110814. doi: 10.1016/j.celrep.2022.110814. PMID: 35584676.
Hiller BM, Marmion DJ, Thompson CA, Elliott NA, Federoff H, Brundin P, Mattis VB, McMahon CW, Kordower JH. Optimizing maturity and dose of iPSC-derived dopamine progenitor cell therapy for Parkinson's disease. NPJ Regen Med. 2022 Apr 21;7(1):24. doi: 10.1038/s41536-022-00221-y. PMID: 35449132; PMCID: PMC9023503.
Wu B, Zhang X, Chiang HC, Pan H, Yuan B, Mitra P, Qi L, Simonyan H, Young CN, Yvon E, Hu Y, Zhang N, Li R. RNA polymerase II pausing factor NELF in CD8+ T cells promotes antitumor immunity. Nat Commun. 2022 Apr 20;13(1):2155. doi: 10.1038/s41467-022-29869-2. PMID: 35444206; PMCID: PMC9021285.
» View on NatureCommunications
Minervina AA, Pogorelyy MV, Kirk AM, Crawford JC, Allen EK, Chou CH, Mettelman RC, Allison KJ, Lin CY, Brice DC, Zhu X, Vegesana K, Wu G, Trivedi S, Kottapalli P, Darnell D, McNeely S, Olsen SR, Schultz-Cherry S, Estepp JH; SJTRC Study Team, McGargill MA, Wolf J, Thomas PG. SARS-CoV-2 antigen exposure history shapes phenotypes and specificity of memory CD8+ T cells. Nat Immunol. 2022 May;23(5):781-790. doi: 10.1038/s41590-022-01184-4. Epub 2022 Apr 5. PMID: 35383307; PMCID: PMC9106845.
Schmit T, Guo K, Tripathi JK, Wang Z, McGregor B, Klomp M, Ambigapathy G, Mathur R, Hur J, Pichichero M, Kolls J, Khan MN. Interferon-γ promotes monocyte-mediated lung injury during influenza infection. Cell Rep. 2022 Mar 1;38(9):110456. doi: 10.1016/j.celrep.2022.110456. PMID: 35235782
Hong H, Lee J, Park GY, Kim S, Park J, Park JS, Song Y, Lee S, Kim TJ, Lee YJ, Roh TY, Kwok SK, Kim SW, Tan Q, Lee Y. Postnatal regulation of B-1a cell development and survival by the CIC-PER2-BHLHE41 axis. Cell Rep. 2022 Feb 15;38(7):110386. doi: 10.1016/j.celrep.2022.110386. PMID: 35172136.
Levack RC, Newell KL, Cabrera-Martinez B, Cox J, Perl A, Bastacky SI, Winslow GM. Adenosine receptor 2a agonists target mouse CD11c+T-bet+ B cells in infection and autoimmunity. Nat Commun. 2022 Jan 21;13(1):452. doi: 10.1038/s41467-022-28086-1. PMID: 35064115.
» View on NatureCommunications
Yan C, Chen SC, Ayers GD, Nebhan CA, Roland JT, Weiss VL, Johnson DB, Richmond A. Proximity of immune and tumor cells underlies response to BRAF/MEK-targeted therapies in metastatic melanoma patients. NPJ Precis Oncol. 2022 Jan 20;6(1):6. doi: 10.1038/s41698-021-00249-1. PMID: 35058553.
Wu D, Poholek CH, Majumder S, Liu Q, Revu SK, Mohib K, Rothstein DM, McGeachy MJ. IL-17-dependent fibroblastic reticular cell training boosts tissue protective mucosal immunity through IL-10-producing B cells. Sci Immunol. 2021 Dec 17;6(66):eaao3669. doi: 10.1126/sciimmunol.aao3669. Epub 2021 Dec 17. PMID: 34919443.
Raihan MO, McGregor BA, Velaris NA, Brishti A, Hur J, Porter JE. Method of Microglial DNA-RNA Purification from a Single Brain of an Adult Mouse. Methods Protoc. 2021 Dec 2;4(4):86. doi: 10.3390/mps4040086. PMID: 34940397; PMCID: PMC8704779.
Wan Z, Sun R, Liu YW, Li S, Sun J, Li J, Zhu J, Moharil P, Zhang B, Ren P, Ren G, Zhang M, Ma X, Dai S, Yang D, Lu B, Li S. Targeting metabotropic glutamate receptor 4 for cancer immunotherapy. Sci Adv. 2021 Dec 10;7(50):eabj4226. doi: 10.1126/sciadv.abj4226. Epub 2021 Dec 10. PMID: 34890233. 
Wilfahrt D, Philips RL, Lama J, Kizerwetter M, Shapiro MJ, McCue SA, Kennedy MM, Rajcula MJ, Zeng H, Shapiro VS. Histone deacetylase 3 represses cholesterol efflux during CD4+ T-cell activation. Elife. 2021 Dec 2;10:e70978. doi: 10.7554/eLife.70978. PMID: 34854376; PMCID: PMC8639145. 
Nyhoff LE, Griffith AS, Clark ES, Thomas JW, Khan WN, Kendall PL. Btk Supports Autoreactive B Cell Development and Protects against Apoptosis but Is Expendable for Antigen Presentation. J Immunol. 2021 Nov 19:ji2000558. doi: 10.4049/jimmunol.2000558. Epub ahead of print. PMID: 34799428.
» View on Journal of Immunology
Young IC, Wu B, Andricovich J, Chuang ST, Li R, Tzatsos A, Wu RC, Wu MY. Differentiation of fetal hematopoietic stem cells requires ARID4B to restrict autocrine KITLG/KIT-Src signaling. Cell Rep. 2021 Nov 23;37(8):110036. doi: 10.1016/j.celrep.2021.110036. PMID: 34818550.
Prinzing B, Zebley CC, Petersen CT, Fan Y, Anido AA, Yi Z, Nguyen P, Houke H, Bell M, Haydar D, Brown C, Boi SK, Alli S, Crawford JC, Riberdy JM, Park JJ, Zhou S, Velasquez MP, DeRenzo C, Lazzarotto CR, Tsai SQ, Vogel P, Pruett-Miller SM, Langfitt DM, Gottschalk S, Youngblood B, Krenciute G. Deleting DNMT3A in CAR T cells prevents exhaustion and enhances antitumor activity. Sci Transl Med. 2021 Nov 17;13(620):eabh0272. doi: 10.1126/scitranslmed.abh0272. Epub 2021 Nov 17. PMID: 34788079.
Stephens WZ, Kubinak JL, Ghazaryan A, Bauer KM, Bell R, Buhrke K, Chiaro TR, Weis AM, Tang WW, Monts JK, Soto R, Ekiz HA, O'Connell RM, Round JL. Epithelial-myeloid exchange of MHC class II constrains immunity and microbiota composition. Cell Rep. 2021 Nov 2;37(5):109916. doi: 10.1016/j.celrep.2021.109916. PMID: 34731608.
Boothby IC, Kinet MJ, Boda DP, Kwan EY, Clancy S, Cohen JN, Habrylo I, Lowe MM, Pauli M, Yates AE, Chan JD, Harris HW, Neuhaus IM, McCalmont TH, Molofsky AB, Rosenblum MD. Early-life inflammation primes a T helper 2 cell-fibroblast niche in skin. Nature. 2021 Oct 27. doi: 10.1038/s41586-021-04044-7. Epub ahead of print. PMID: 34707292.
Morgan PK, Huynh K, Pernes G, Miotto PM, Mellett NA, Giles C, Meikle PJ, Murphy AJ, Lancaster GI. Macrophage polarization state affects lipid composition and the channelling of exogenous fatty acids into endogenous lipid pools. J Biol Chem. 2021 Oct 22:101341. doi: 10.1016/j.jbc.2021.101341. PMID: 34695418.
Zebley CC, Abdelsamed HA, Ghoneim HE, Alli S, Brown C, Haydar D, Mi T, Harris T, McGargill MA, Krenciute G, Youngblood B. Proinflammatory cytokines promote TET2-mediated DNA demethylation during CD8 T cell effector differentiation. Cell Rep. 2021 Oct 12;37(2):109796. doi: 10.1016/j.celrep.2021.109796. PMID: 34644568.
Jin YB, Cao X, Shi CW, et al. Lactobacillus rhamnosus GG Promotes Early B Lineage Development and IgA Production in the Lamina Propria in Piglets. J Immunol. 2021 Sep 8: ji2100102. doi: 10.4049/jimmunol.2100102. PMID: 34497150.
Yagi M, Mizuno M, Fujisawa R, et al. Optimal Pore Size of Honeycomb Polylactic Acid Films for In Vitro Cartilage Formation by Synovial Mesenchymal Stem Cells. Stem Cells Int. 2021 Aug 2;2021:9239728. doi: 10.1155/2021/9239728. PMID: 34394358; PMCID: PMC8356005.
Lopez-Ichikawa M, Vu NK, Nijagal A, Rubinsky B, Chang TT. Neutrophils are important for the development of pro-reparative macrophages after irreversible electroporation of the liver in mice. Sci Rep. 2021 Jul 22;11(1):14986. doi: 10.1038/s41598-021-94016-8. PMID: 34294763.
» View on NatureCommunications
Dodagatta-Marri E, Ma HY, Liang B, et al. Integrin αvβ8 on T cells suppresses anti-tumor immunity in multiple models and is a promising target for tumor immunotherapy. Cell Rep. 2021 Jul 6;36(1):109309. doi: 10.1016/j.celrep.2021.109309. PMID: 34233193.
Xu C, Sun S, Johnson T, Qi R, Zhang S, Zhang J, Yang K. The glutathione peroxidase Gpx4 prevents lipid peroxidation and ferroptosis to sustain Treg cell activation and suppression of antitumor immunity. Cell Rep. 2021 Jun 15;35(11):109235. doi: 10.1016/j.celrep.2021.109235. PMID: 34133924.
Yan C, Saleh N, Yang J, et al. Novel induction of CD40 expression by tumor cells with RAS/RAF/PI3K pathway inhibition augments response to checkpoint blockade. Mol Cancer. 2021 Jun 6;20(1):85. doi: 10.1186/s12943-021-01366-y. PMID: 34092233; PMCID: PMC8182921.
Dikiy S, Li J, Bai L, Jiang M, Janke L, Zong X, Hao X, Hoyos B, Wang ZM, Xu B, Fan Y, Rudensky AY, Feng Y. A distal Foxp3 enhancer enables interleukin-2 dependent thymic Treg cell lineage commitment for robust immune tolerance. Immunity. 2021 May 11;54(5):931-946.e11. doi: 10.1016/j.immuni.2021.03.020. Epub 2021 Apr 9. PMID: 33838102; PMCID: PMC8317508.
Battaglia NG, Uccello TP, Hughson A, et al. Co-administration of a clinically relevant dexamethasone dosage with ablative radiotherapy reduces peripheral lymphocytes but does not alter in vivo intratumoral lymphocyte phenotype or inhibit efficacy of radiotherapy in a murine colorectal tumor model. Int J Radiat Oncol Biol Phys. 2021 Apr 29:S0360-3016(21)00403-X. doi: 10.1016/j.ijrobp.2021.04.021. PMID: 33933481.
Clark NM, Martinez LM, Murdock S, deLigio JT, Olex AL, Effi C, Dozmorov MG, Bos PD. Regulatory T Cells Support Breast Cancer Progression by Opposing IFN-γ-Dependent Functional Reprogramming of Myeloid Cells. Cell Rep. 2020 Dec 8;33(10):108482. doi: 10.1016/j.celrep.2020.108482. PMID: 33296659.
Li C, Park JH. Assessing IL-2-Induced STAT5 Phosphorylation in Fixed, Permeabilized Foxp3+ Treg Cells by Multiparameter Flow Cytometry. STAR Protoc. 2020 Dec 1;1(3):100195. doi: 10.1016/j.xpro.2020.100195. PMID: 33377089; PMCID: PMC7757559.
Heninger E, Sethakorn N, Kosoff D, Hematti P, Kuczler MD, Pienta KJ, Lang JM. Immune profiling of the bone marrow microenvironment in patients with high-risk localized prostate cancer. Oncotarget. 2020 Nov 17;11(46):4253-4265. doi: 10.18632/oncotarget.27817. PMID: 33245727; PMCID: PMC7679037.
Kline JM, Arriaga-Gomez E, Yangdon T, Boo B, et al. Repeated dermal application of the common preservative methylisothiazolinone triggers local inflammation, T cell influx, and prolonged mast cell-dependent tactile sensitivity in mice. PLoS One. 2020 Oct 26;15(10):e0241218. doi: 10.1371/journal.pone.0241218. PMID: 33104726.
Mishra S, Liao W, Liu Y, Yang M, Ma C, Wu H, Zhao M, Zhang X, Qiu Y, Lu Q, Zhang N. TGF-β and Eomes control the homeostasis of CD8+ regulatory T cells. J Exp Med. 2021 Jan 4;218(1):e20200030. doi: 10.1084/jem.20200030. PMID: 32991667.  
Boyd DF, Allen EK, Randolph AG, Guo XJ, et al. Exuberant fibroblast activity compromises lung function via ADAMTS4. Nature. 2020 Oct 28. doi: 10.1038/s41586-020-2877-5. PMID: 33116313.
Clifton GT, Hale D, Vreeland TJ, et al. Results of a Randomized Phase IIb Trial of Nelipepimut-S + Trastuzumab versus Trastuzumab to Prevent Recurrences in Patients with High-Risk HER2 Low-Expressing Breast Cancer. Clin Cancer Res. 2020 Jun 1;26(11):2515-2523. doi: 10.1158/1078-0432.CCR-19-2741. Epub 2020 Feb 18. PMID: 32071118.
Wali S, Flores JR, Jaramillo AM, et al. Immune Modulation to Improve Survival of Viral Pneumonia in Mice.  Am J Respir Cell Mol Biol. 2020;10.1165/rcmb.2020-0241OC. doi:10.1165/rcmb.2020-0241OC
Wu B, Chiang HC, Sun X, et al. Genetic ablation of adipocyte PD-L1 reduces tumor growth but accentuates obesity-associated inflammation. J Immunother Cancer. 2020;8(2):e000964. doi:10.1136/jitc-2020-000964.
Shubina M, Tummers B, Boyd DF, et al. Necroptosis restricts influenza A virus as a stand-alone cell death mechanism. J Exp Med. 2020;217(11):e20191259. doi:10.1084/jem.20191259.
Kumar A, Suryadevara NC, Wolf KJ, et al. Heterotypic immunity against vaccinia virus in an HLA-B*07:02 transgenic mousepox infection model. Sci Rep. 2020;10(1):13167. Published 2020 Aug 5. doi:10.1038/s41598-020-69897-w.
Lustig A, Manor T, Shi G, et al. Lipid Microbubble-Conjugated Anti-CD3 and Anti-CD28 Antibodies (Microbubble-Based Human T Cell Activator) Offer Superior Long-Term Expansion of Human Naive T Cells In Vitro. Immunohorizons. 2020;4(8):475-484. Published 2020 Aug 7. doi:10.4049/immunohorizons.2000056.
Poholek CH, Raphael I, Wu D, et al. Noncanonical STAT3 activity sustains pathogenic Th17 proliferation and cytokine response to antigen. J Exp Med. 2020;217(10):e20191761. doi:10.1084/jem.20191761.
» View on Journal of Experimental Medicine
Jennifer S. Chen, Jessica D.S. Grassmann, Uthaman Gowthaman, Sam J. Olyha, Tregony Simoneau, M. Cecilia Berin, Stephanie C. Eisenbarth, Adam Williams. Flow cytometric identification of Tfh13 cells in mouse and human. Journal of Allergy and Clinical Immunology, 2020.  https://doi.org/10.1016/j.jaci.2020.04.063.
Stearoyl-CoA desaturase mediated monounsaturated fatty acid availability supports humoral immunity. Xian Zhou, Xingxing Zhu, Chaofan Li, Yanfeng Li, Zhenqing Ye, Virginia ShapiroJohn A. Copland III, Taro Hitosugi, David Bernlohr, Jie Sun, Hu Zeng. bioRxiv 2020.04.22.028613; doi: https://doi.org/10.1101/2020.04.22.028613.
Hong-Xia ZhouRun-Feng LiYi-Feng Wang, et al. Total alkaloids from Alstonia scholaris inhibit influenza A virus replication and lung immunopathology by regulating the innate immune response.  ScienceDirect.  June 29 2020. https://doi.org/10.1016/j.phymed.2020.153272.
Marcovecchio, Paola M et al. Frontline Science: Kindlin-3 is essential for patrolling and phagocytosis functions of nonclassical monocytes during metastatic cancer surveillance. Journal of leukocyte biology vol. 107,6 (2020): 883-892. doi:10.1002/JLB.4HI0420-098R.
Mahuron KM, Moreau JM, Glasgow JE, et al. Layilin augments integrin activation to promote antitumor immunity. J Exp Med. 2020;217(9):e20192080. doi:10.1084/jem.20192080.
Logsdon, A.F., Schindler, A.G., Meabon, J.S. et al. Nitric oxide synthase mediates cerebellar dysfunction in mice exposed to repetitive blast-induced mild traumatic brain injury. Sci Rep 10, 9420 (2020). https://doi.org/10.1038/s41598-020-66113-7.
 » View on Nature Communications
Irini Evnouchidou, Pascal Chappert, Samira Benadda, et al. IRAP-dependent endosomal T cell receptor signalling is essential for T cell responses. Nat Commun. 2020 Jun 2;11(1):2779. doi: 10.1038/s41467-020-16471-7.
» View on Nature Communications
Nadia S. Kurd, Zhaoren He, Tiani L. Louis, et al. Chang. Early precursors and molecular determinants of tissue-resident memory CD8+ T lymphocytes revealed by single-cell RNA sequencing. Sci Immunol 2020 May 15;5(47):eaaz6894. doi: 10.1126/sciimmunol.aaz6894.
Caplan HW, Prabhakara KS, Kumar A, et al. Human cord blood-derived regulatory T-cell therapy modulates the central and peripheral immune response after traumatic brain injury. Stem Cells Transl Med. 2020 May 7:e12706. doi: 10.1002/sctm.19-0444.
Alexander J Neuwelt, Abigail K Kimball, Amber M Johnson, et al. Cancer cell-intrinsic expression of MHC II in lung cancer cell lines is actively restricted by MEK/ERK signaling and epigenetic mechanisms.  J Immunother Cancer. 2020 Apr;8(1). pii: e000441. doi: 10.1136/jitc-2019-000441.
Alkhani A, Levy CS, Tsui M, et al. Ly6cLo non-classical monocytes promote resolution of rhesus rotavirus-mediated perinatal hepatic inflammation. Sci Rep. 2020 Apr 28;10(1):7165. doi: 10.1038/s41598-020-64158-2.
Adam L. Burrack, Ellen J. Spartz, Jackson F. Raynor, Iris Wang, Margaret Olson, Ingunn M. Stromnes. Combination PD-1 and PD-L1 Blockade Promotes Durable Neoantigen-Specific T Cell-Mediated Immunity in Pancreatic Ductal Adenocarcinoma. Cell Rep. 2019 Aug 20;28(8):2140-2155.e6. doi: 10.1016/j.celrep.2019.07.059

» View on PubMed
Sarika Saraswati, Stephanie M.W. Marrow, Lester A. Watch1 & Pampee P. Young. Identification of a pro-angiogenic functional role for FSP1-positive fibroblast subtype in wound healing. Nat Commun. 2019 Jul 9;10(1):3027. doi: 10.1038/s41467-019-10965-9

» View on PubMed
Martinov T, Swanson LA, Breed ER, Tucker CG, Dwyer AJ, Johnson JK, Mitchell JS, Sahli NL, Wilson JC, Singh LM, Hogquist KA, Spanier JA, Fife BT. Programmed Death-1 Restrains the Germinal Center in Type 1 Diabetes. J Immunol. 2019 Aug 15;203(4):844-852. doi: 10.4049/jimmunol.1801535

» View on PubMed
Kevin C. Osum, Adam L. Burrack, Tijana Martinov, et al. Interferon-gamma drives programmed death-ligand 1 expression on islet β cells to limit T cell function during autoimmune diabetes. Sci Rep. 2018 May 29;8(1):8295. doi: 10.1038/s41598-018-26471-9

» View on PubMed
Avery L, Filderman J, Szymczak-Workman AL, Kane LP4. Tim-3 co-stimulation promotes short-lived effector T cells, restricts memory precursors, and is dispensable for T cell exhaustion. Proc Natl Acad Sci U S A. 2018 Mar 6;115(10):2455-2460. doi: 10.1073/pnas.1712107115
Mande P, Zirak B, Ko WC, Taravati K, Bride KL, Brodeur TY, Deng A, Dresser K, Jiang Z, Ettinger R, Fitzgerald KA, Rosenblum MD, Harris JE, Marshak-Rothstein A. Fas ligand promotes an inducible TLR-dependent model of cutaneous lupus-like inflammation. J Clin Invest. 2018 Jul 2;128(7):2966-2978. doi: 10.1172/JCI98219

» View on PubMed
Benck CJ, Martinov T, Fife BT and Chatterjea D. 2016. J. Vis. Exp. (107), e53638, doi:10.3791/53638. (Flow Cytometry)
Lee RA, Mao C, Vo H, Gao W and Zhong X. 2015. Ann NY Acad Sci. doi: 10.1111/nyas.12865. (Flow Cytometry) Watkin LB, Jessen B, Wiszniewski W, Vece TJ, Jan M, Sha Y, Thamsen M, Santos-Cortez RL et al. 2015. Nat Genet. 47: 654-660. (Flow Cytometry) Vo H, Chiu J, Allaimo D, Mao C, Wang Y, Gong Y, Ow H, Porter T and Zhong X. 2014. Immun, Inflamm & Dis. 2(4): 254-261. (Flow Cytometry) Miles B, Miller SM, Folkvord JM, Kimball A, Chamanian M, Meditz AL, Arends T et al. 2015. Nat Commun. doi: 10.1038/ncomms9608. (Flow Cytometry)
| | |
| --- | --- |
| Name | Ghost Dye™ Violet 510 |
| Cat. No. | 13-0870 |
| Protocol | Download Protocol |
| Excitation Laser | Violet (405 nm) |
| Emission (nm) | 510 |
| Formulation | 1 µL/test in DMSO |
| Application | Flow Cytometry |
Shipping
Price calculated at checkout.