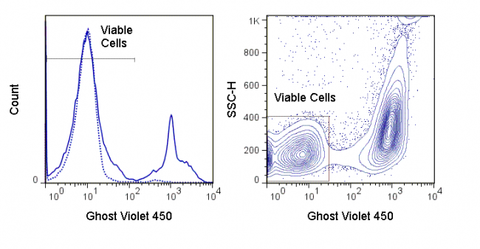 Ghost Dye™ Violet 450
SKU 13-0863-T100
Description
Ghost Dye™ Violet 450 is an amine reactive viability dye that can be used to discriminate viable from non-viable mammalian cells in flow cytometry applications. This dye irreversibly binds free amines available on the cell surface as well as intracellular free amines exposed in cells with compromised cell membranes. Necrotic cells with compromised membranes will react with significantly more Ghost Dye™ Violet 450 dye than viable cells in the same sample and therefore will exhibit much greater fluorescence intensity allowing exclusion of these cells from analysis.
Recent Publications: 
Fahl SP, Sertori R, Zhang Y, Contreras AV, Harris B, Wang M, Perrigoue J, Balachandran S, Kennedy BK, Wiest DL. Loss of Ribosomal Protein Paralog Rpl22-like1 Blocks Lymphoid Development without Affecting Protein Synthesis. J Immunol. 2022 Jan 19:ji2100668. doi: 10.4049/jimmunol.2100668. Epub ahead of print. PMID: 35046107.
» View on Journal of Immunology
Desu HL, Illiano P, Choi JS, et al. TNFR2 Signaling Regulates the Immunomodulatory Function of Oligodendrocyte Precursor Cells. Cells. 2021 Jul 15;10(7):1785. doi: 10.3390/cells10071785. PMID: 34359956; PMCID: PMC8306473.
Hamilton JR, Tsuchida CA, Nguyen DN, et al. Targeted delivery of CRISPR-Cas9 and transgenes enables complex immune cell engineering. Cell Rep. 2021 Jun 1;35(9):109207. doi: 10.1016/j.celrep.2021.109207. PMID: 34077734.
Franciosa G, Smits JGA, Minuzzo S, Martinez-Val A, Indraccolo S, Olsen JV. Proteomics of resistance to Notch1 inhibition in acute lymphoblastic leukemia reveals targetable kinase signatures. Nat Commun. 2021 May 4;12(1):2507. doi: 10.1038/s41467-021-22787-9. PMID: 33947863.
» View on NatureCommunications
Elisia I, Lam V, Cho B, et al. The effect of smoking on chronic inflammation, immune function and blood cell composition. Sci Rep. 2020 Nov 10;10(1):19480. doi: 10.1038/s41598-020-76556-7. PMID: 33173057; PMCID: PMC7655856.
Crouse, B., Robinson, C., Huseby Kelcher, A. et al. Mechanisms of interleukin 4 mediated increase in efficacy of vaccines against opioid use disorders. npj Vaccines 5, 99 (2020). https://doi.org/10.1038/s41541-020-00247-7. 
Poholek CH, Raphael I, Wu D, et al. Noncanonical STAT3 activity sustains pathogenic Th17 proliferation and cytokine response to antigen. J Exp Med. 2020;217(10):e20191761. doi:10.1084/jem.20191761.
Zhou W, Zhang J, Toki S, et al. COX Inhibition Increases Alternaria-Induced Pulmonary Group 2 Innate Lymphoid Cell Responses and IL-33 Release in Mice [published online ahead of print, 2020 Jul 20]. J Immunol. 2020;ji1901544. doi:10.4049/jimmunol.1901544.
Terranova-Barberio, M., Pawlowska, N., Dhawan, M. et al. Exhausted T cell signature predicts immunotherapy response in ER-positive breast cancer. Nat Commun 11, 3584 (2020). https://doi.org/10.1038/s41467-020-17414-y.
Alexander J Neuwelt, Abigail K Kimball, Amber M Johnson, Benjamin W Arnold, Bonnie L Bullock, Rachael E Kaspar, Emily K Kleczko, Jeff W Kwak, Meng-Han Wu, Lynn E Heasley, Robert C Doebele, Howard Y Li,Raphael A Nemenoff, Eric T Clambey. Cancer cell-intrinsic expression of MHC II in lung cancer cell lines is actively restricted by MEK/ERK signaling and epigenetic mechanisms.  J Immunother Cancer. 2020 Apr;8(1). pii: e000441. doi: 10.1136/jitc-2019-000441.
Miles B, Miller SM, Folkvord JM, Kimball A, Chamanian M, Meditz AL, Arends T et al. 2015. Nat Commun. doi: 10.1038/ncomms9608. (Flow Cytometry)
| | |
| --- | --- |
| Name | Ghost Dye™ Violet 450 |
| Cat. No. | 13-0863 |
| Protocol | Download Protocol |
| Excitation Laser | Violet (405 nm) |
| Emission (nm) | 450 |
| Formulation | 1 µL/test in DMSO |
| Application | Flow Cytometry |
Shipping
Price calculated at checkout.