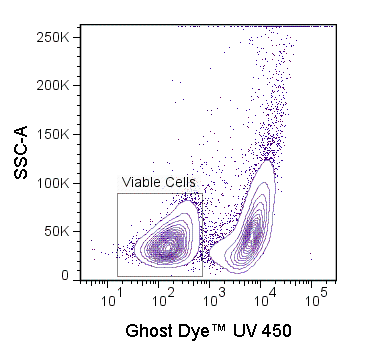 Ghost Dye™ UV 450
SKU 13-0868-T100
Description
Ghost Dye™ UV 450 is an amine reactive viability dye that can be used to discriminate viable from non-viable mammalian cells in flow cytometry applications. This dye irreversibly binds free amines available on the cell surface as well as intracellular free amines exposed in cells with compromised cell membranes. Necrotic cells with compromised membranes will react with significantly more Ghost Dye™ UV 450 dye than viable cells in the same sample and therefore will exhibit much greater fluorescence intensity allowing exclusion of these cells from analysis.
Recent Publications:
Mitchell JE, Lund MM, Starmer J, Ge K, Magnuson T, Shpargel KB, Whitmire JK. UTX promotes CD8+ T cell-mediated antiviral defenses but reduces T cell durability. Cell Rep. 2021 Apr 13;35(2):108966. doi: 10.1016/j.celrep.2021.108966. PMID: 33852868.
Marcia de Almeida Monteiro Melo Ferraz, Mayako Fujihara, Jennifer Beth Nagashima, Michael James Noonan, Miho Inoue-Murayama, Nucharin Songsasen. Follicular Extracellular Vesicles Enhance Meiotic Resumption of Domestic Cat Vitrified Oocytes. Sci Rep. 2020 May 25;10(1):8619. doi: 10.1038/s41598-020-65497-w.
Derek W. Trobaugh, Chengqun Sun, Matthew D. Dunn, Douglas S. Reed, William B. Klimstra. Rational design of a live-attenuated eastern equine encephalitis virus vaccine through informed mutation of virulence determinants. PLoS Pathog. 2019 Feb 11;15(2):e1007584. doi: 10.1371/journal.ppat.1007584
» View on PubMed
Jessica K. Fiege, Ian A. Stone, Elizabeth J. Fay, Matthew W. Markman, Sathi Wijeyesinghe, Marissa G. Macchietto, Steven Shen, David Masopust and Ryan A. Langlois. The Impact of TCR Signal Strength on Resident Memory T Cell Formation during Influenza Virus Infection. J Immunol. 2019 Aug 15;203(4):936-945. doi: 10.4049/jimmunol.1900093
» View on PubMed
Jessica K. Fiege, Ian A. Stone, Rebekah E. Dumm, Barbara M. Waring, Brian T. FifeI, Judith Agudo, Brian D. Brown, Nicholas S. Heaton, Ryan A. Langlois. Long-term surviving influenza infected cells evade CD8+ T cell mediated clearance. PLoS Pathog. 2019 Sep 26;15(9):e1008077. doi: 10.1371/journal.ppat.1008077
» View on PubMed
| | |
| --- | --- |
| Name | Ghost Dye™ UV 450 |
| Cat. No. | 13-0868 |
| Protocol | Download Protocol |
| Excitation Laser | UV (355 nm) |
| Emission (nm) | 450 |
| Formulation | 1 µL/test in DMSO |
| Application | Flow Cytometry |
Shipping
Price calculated at checkout.