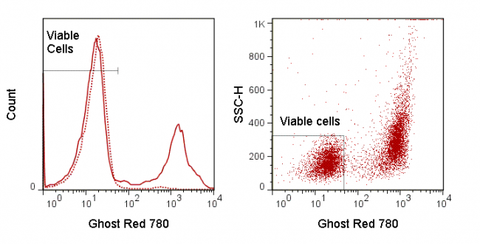 Ghost Dye™ Red 780
SKU 13-0865-T100
Description
Ghost Dye™ Red 780 is an amine reactive viability dye that can be used to discriminate viable from non-viable mammalian cells in flow cytometry applications. This dye irreversibly binds free amines available on the cell surface as well as intracellular free amines exposed in cells with compromised cell membranes. Necrotic cells with compromised membranes will react with significantly more Ghost Dye™ Red 780 dye than viable cells in the same sample and therefore will exhibit much greater fluorescence intensity allowing exclusion of these cells from analysis.
Recent Publications: 
Brian BF 4th, Sauer ML, Greene JT, Senevirathne SE, Lindstedt AJ, Funk OL, Ruis BL, Ramirez LA, Auger JL, Swanson WL, Nunez MG, Moriarity BS, Lowell CA, Binstadt BA, Freedman TS. A dominant function of LynB kinase in preventing autoimmunity. Sci Adv. 2022 Apr 22;8(16):eabj5227. doi: 10.1126/sciadv.abj5227. Epub 2022 Apr 22. PMID: 35452291.
Jacqueline C, Dracz M, Xue J, Binder RJ, Minden J, Finn O. LCVM infection generates tumor antigen-specific immunity and inhibits growth of nonviral tumors. Oncoimmunology. 2022 Jan 21;11(1):2029083. doi: 10.1080/2162402X.2022.2029083. PMID: 35083098; PMCID: PMC8786340.
Mergaert AM, Denny MF, Kingstad-Bakke B, Bawadekar M, Bashar SJ, Warner TF, Suresh M, Shelef MA. Peptidylarginine Deiminase 2 in Murine Antiviral and Autoimmune Antibody Responses. J Immunol Res. 2022 Jan 17;2022:5258221. doi: 10.1155/2022/5258221. PMID: 35083342; PMCID: PMC8786467.
Torphy RJ, Sun Y, Lin R, Caffrey-Carr A, Fujiwara Y, Ho F, Miller EN, McCarter MD, Lyons TR, Schulick RD, Kedl RM, Zhu Y. GPR182 limits antitumor immunity via chemokine scavenging in mouse melanoma models. Nat Commun. 2022 Jan 10;13(1):97. doi: 10.1038/s41467-021-27658-x. PMID: 35013216.
Wilfahrt D, Philips RL, Lama J, Kizerwetter M, Shapiro MJ, McCue SA, Kennedy MM, Rajcula MJ, Zeng H, Shapiro VS. Histone deacetylase 3 represses cholesterol efflux during CD4+ T-cell activation. Elife. 2021 Dec 2;10:e70978. doi: 10.7554/eLife.70978. PMID: 34854376; PMCID: PMC8639145. 
Kim EJ, Liu P, Zhang S, Donahue K, Wang Y, Schehr JL, Wolfe SK, Dickerson A, Lu L, Rui L, Zhong X, Wisinski KB, Yu M, Suzuki A, Lang JM, Ong IM, Xu W. BAF155 methylation drives metastasis by hijacking super-enhancers and subverting anti-tumor immunity. Nucleic Acids Res. 2021 Dec 2;49(21):12211-12233. doi: 10.1093/nar/gkab1122. PMID: 34865122.
Stephens WZ, Kubinak JL, Ghazaryan A, Bauer KM, Bell R, Buhrke K, Chiaro TR, Weis AM, Tang WW, Monts JK, Soto R, Ekiz HA, O'Connell RM, Round JL. Epithelial-myeloid exchange of MHC class II constrains immunity and microbiota composition. Cell Rep. 2021 Nov 2;37(5):109916. doi: 10.1016/j.celrep.2021.109916. PMID: 34731608.
Fiege JK, Block KE, Pierson MJ, Nanda H, Shepherd FK, Mickelson CK, Stolley JM, Matchett WE, Wijeyesinghe S, Meyerholz DK, Vezys V, Shen SS, Hamilton SE, Masopust D, Langlois RA. Mice with diverse microbial exposure histories as a model for preclinical vaccine testing. Cell Host Microbe. 2021 Oct 27:S1931-3128(21)00463-7. doi: 10.1016/j.chom.2021.10.001. Epub ahead of print. PMID: 34731647.
Sturmlechner I, Zhang C, Sine CC, van Deursen EJ, Jeganathan KB, Hamada N, Grasic J, Friedman D, Stutchman JT, Can I, Hamada M, Lim DY, Lee JH, Ordog T, Laberge RM, Shapiro V, Baker DJ, Li H, van Deursen JM. p21 produces a bioactive secretome that places stressed cells under immunosurveillance. Science. 2021 Oct 29;374(6567):eabb3420. doi: 10.1126/science.abb3420. Epub 2021 Oct 29. PMID: 34709885.
Ayupe AC, Beckedorff F, Levay K, Yon B, Salgueiro Y, Shiekhattar R, Park KK. Identification of long noncoding RNAs in injury-resilient and injury-susceptible mouse retinal ganglion cells. BMC Genomics. 2021 Oct 14;22(1):741. doi: 10.1186/s12864-021-08050-x. PMID: 34649511.
Tei R, Iijima K, Matsumoto K, et al. TLR3-driven IFN-β antagonizes STAT5-activating cytokines and suppresses innate type 2 response in the lung. J Allergy Clin Immunol. 2021 Aug 21:S0091-6749(21)01296-3. doi: 10.1016/j.jaci.2021.07.041. PMID: 34428519.
Magee K, Marsh IR, Turek MM, et al. Safety and feasibility of an in situ vaccination and immunomodulatory targeted radionuclide combination immuno-radiotherapy approach in a comparative (companion dog) setting. PLoS One. 2021 Aug 12;16(8):e0255798. doi: 10.1371/journal.pone.0255798. PMID: 34383787; PMCID: PMC8360580.
Jairaman A, Othy S, Dynes JL, et al. Piezo1 channels restrain regulatory T cells but are dispensable for effector CD4+ T cell responses. Sci Adv. 2021 Jul 7;7(28):eabg5859. doi: 10.1126/sciadv.abg5859. PMID: 34233878.
Burbach BJ, O'Flanagan SD, Shao Q, et al. Irreversible electroporation augments checkpoint immunotherapy in prostate cancer and promotes tumor antigen-specific tissue-resident memory CD8+ T cells. Nat Commun. 2021 Jun 23;12(1):3862. doi: 10.1038/s41467-021-24132-6. PMID: 34162858.
Hamilton JR, Tsuchida CA, Nguyen DN, et al. Targeted delivery of CRISPR-Cas9 and transgenes enables complex immune cell engineering. Cell Rep. 2021 Jun 1;35(9):109207. doi: 10.1016/j.celrep.2021.109207. PMID: 34077734.
Davenport BJ, Morrison TE, Kedl RM, Klarquist J. Conserved and Novel Mouse CD8 T Cell Epitopes within SARS-CoV-2 Spike Receptor Binding Domain Protein Identified following Subunit Vaccination. J Immunol. 2021 May 10:ji2100195. doi: 10.4049/jimmunol.2100195. PMID: 33972373.
Trott DW, Islam MT, Buckley DJ, Donato AJ, Dutson T, Sorensen ES, Cai J, Gogulamudi VR, Phuong TTT, Lesniewski LA. T lymphocyte depletion ameliorates age-related metabolic impairments in mice. Geroscience. 2021 Apr 24. doi: 10.1007/s11357-021-00368-4. PMID: 33893902.
Dikiy S, Li J, Bai L, Jiang M, Janke L, Zong X, Hao X, Hoyos B, Wang ZM, Xu B, Fan Y, Rudensky AY, Feng Y. A distal Foxp3 enhancer enables interleukin-2 dependent thymic Treg cell lineage commitment for robust immune tolerance. Immunity. 2021 May 11;54(5):931-946.e11. doi: 10.1016/j.immuni.2021.03.020. Epub 2021 Apr 9. PMID: 33838102; PMCID: PMC8317508.
Jagodinsky JC, Jin WJ, Bates AM, Hernandez R, Grudzinski JJ, Marsh IR, Chakravarty I, Arthur IS, Zangl LM, Brown RJ, Nystuen EJ, Emma SE, Kerr C, Carlson PM, Sriramaneni RN, Engle JW, Aluicio-Sarduy E, Barnhart TE, Le T, Kim K, Bednarz BP, Weichert JP, Patel RB, Morris ZS. Temporal analysis of type 1 interferon activation in tumor cells following external beam radiotherapy or targeted radionuclide therapy. Theranostics. 2021 Apr 15;11(13):6120-6137. doi: 10.7150/thno.54881. PMID: 33995649; PMCID: PMC8120207.
Marín-Jiménez JA, Capasso A, Lewis MS, et al. Testing Cancer Immunotherapy in a Human Immune System Mouse Model: Correlating Treatment Responses to Human Chimerism, Therapeutic Variables and Immune Cell Phenotypes. Front Immunol. 2021 Mar 29;12:607282. doi: 10.3389/fimmu.2021.607282. PMID: 33854497; PMCID: PMC8040953.
Lee W, Kingstad-Bakke B, Kedl RM, Kawaoka Y, Suresh M. CCR2 Regulates Vaccine-Induced Mucosal T-Cell Memory to Influenza A Virus. bioRxiv. 2021 Mar 25:2021.03.24.436901. doi: 10.1101/2021.03.24.436901. PMID: 33791695; PMCID: PMC8010722.
Mitchell JE, Lund MM, Starmer J, Ge K, Magnuson T, Shpargel KB, Whitmire JK. UTX promotes CD8+ T cell-mediated antiviral defenses but reduces T cell durability. Cell Rep. 2021 Apr 13;35(2):108966. doi: 10.1016/j.celrep.2021.108966. PMID: 33852868.
Reimann M, Schrezenmeier JF, Richter-Pechanska P, Dolnik A, et al. Adaptive T-cell immunity controls senescence-prone MyD88- or CARD11-mutant B-cell lymphomas. Blood. 2020 Nov 24:blood.2020005244. doi: 10.1182/blood.2020005244. PMID: 33232972.
McCoy SS, Giri J, Das R, et al. Minor salivary gland mesenchymal stromal cells derived from patients with Sjӧgren's syndrome deploy intact immune plasticity. Cytotherapy. 2020 Nov 28:S1465-3249(20)30861-6. doi: 10.1016/j.jcyt.2020.09.008. PMID: 33262072.
Fisher C, Patel R. Rifampin, Rifapentine, and Rifabutin are Active Against Intracellular Periprosthetic Joint Infection-Associated Staphylococcus epidermidis. Antimicrob Agents Chemother. 2020 Nov 16:AAC.01275-20. doi: 10.1128/AAC.01275-20. PMID: 33199387.
Bescucci DM, Clarke ST, Brown CLJ, et al. The absence of murine cathelicidin-related antimicrobial peptide impacts host responses enhancing Salmonella enterica serovar Typhimurium infection. Gut Pathog. 2020 Nov 13;12(1):53. doi: 10.1186/s13099-020-00386-1. PMID: 33292444; PMCID: PMC7666523.
Schmidt JK, Keding LT, Block LN, et al. Placenta-derived macaque trophoblast stem cells: differentiation to syncytiotrophoblasts and extravillous trophoblasts reveals phenotypic reprogramming. Sci Rep. 2020 Nov 5;10(1):19159. doi: 10.1038/s41598-020-76313-w. PMID: 33154556; PMCID: PMC7644694.
Kong H, Reczek CR, McElroy GS, et al. Metabolic determinants of cellular fitness dependent on mitochondrial reactive oxygen species. Sci Adv. 2020 Nov 4;6(45):eabb7272. doi: 10.1126/sciadv.abb7272. PMID: 33148642.
| | |
| --- | --- |
| Name | Ghost Dye™ Violet 780 |
| Cat. No. | 13-0865 |
| Protocol | Download Protocol |
| Excitation Laser | red (633-640 nm) |
| Emission (nm) | 780 |
| Formulation | 1 µL/test in DMSO |
| Application | Flow Cytometry |
Shipping
Price calculated at checkout.