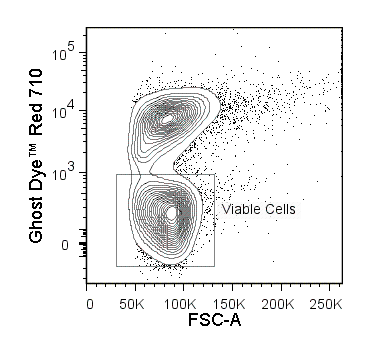 Ghost Dye™ Red 710
SKU 13-0871-T100
Description
Ghost Dye™ Red 710 is an amine reactive viability dye that can be used to discriminate viable from non-viable mammalian cells in flow cytometry applications. This dye irreversibly binds free amines available on the cell surface as well as intracellular free amines exposed in cells with compromised cell membranes. Necrotic cells with compromised membranes will react with significantly more Ghost Dye™ Red 710 dye than viable cells in the same sample and therefore will exhibit much greater fluorescence intensity allowing exclusion of these cells from analysis.
Recent Publications:
Honda M, Kadohisa M, Yoshii D, Komohara Y, Hibi T. Directly recruited GATA6 + peritoneal cavity macrophages contribute to the repair of intestinal serosal injury. Nat Commun. 2021 Dec 15;12(1):7294. doi: 10.1038/s41467-021-27614-9. PMID: 34911964.
» View on NatureCommunications
Nyhoff LE, Griffith AS, Clark ES, Thomas JW, Khan WN, Kendall PL. Btk Supports Autoreactive B Cell Development and Protects against Apoptosis but Is Expendable for Antigen Presentation. J Immunol. 2021 Nov 19:ji2000558. doi: 10.4049/jimmunol.2000558. Epub ahead of print. PMID: 34799428.
» View on Journal of Immunology
Paschall AV, Middleton DR, Wantuch PL, Avci FY. Therapeutic Activity of Type 3 Streptococcus pneumoniae Capsule Degrading Enzyme Pn3Pase. Pharm Res. 2020 Nov 2;37(12):236. doi: 10.1007/s11095-020-02960-3. PMID: 33140159; PMCID: PMC7605875.
Gestal MC, Blas-Machado U, Johnson HM, et al. Disrupting Bordetella Immunosuppression Reveals a Role for Eosinophils in Coordinating the Adaptive Immune Response in the Respiratory Tract. Microorganisms. 2020 Nov 17;8(11):1808. doi: 10.3390/microorganisms8111808. PMID: 33212993; PMCID: PMC7698589.
Deppermann C, Peiseler M, Zindel J, et al. Tacrolimus impairs Kupffer cell capacity to control bacteremia: why transplant recipients are susceptible to infection. 2020 Aug 6. Hepatology. 2020;10.1002/hep.31499. doi:10.1002/hep.31499.
Chronic unilateral cervical vagotomy reduces renal inflammation, blood pressure, and renal injury in a mouse model of lupus. Pham GS, Gusson Shimoura C, Chaudhari S, Kulp DV, Mathis KW. 2020 Jun 15. Am J Physiol Renal Physiol. 2020;10.1152/ajprenal.00201.2020. doi:10.1152/ajprenal.00201.2020.
Zhichao Fan, Zbigniew Mikulski, Sara McArdle, Prithu Sundd, Klaus Ley. Super-STORM: Molecular Modeling to Achieve Single-molecule Localization with STORM Microscopy. ScienceDirect. 2020 June 3: https://doi.org/10.1016/j.xpro.2019.100012.
Rita Kansal, Noah Richardson, Indira Neeli, Saleem Khawaja, Damian Chamberlain, Marium Ghani, Qurat-ul-ain Ghani, Louisa Balazs, Sarka Beranova-Giorgianni, Francesco Giorgianni, James N. Kochenderfer, Tony Marion, Lorraine M. Albritton, Marko Radic. Sustained B cell depletion by CD19-targeted CAR T cells is a highly effective treatment for murine lupus. Sci Transl Med. 2019 Mar 6;11(482). pii: eaav1648. doi: 10.1126/scitranslmed.aav1648

» View on PubMed
| | |
| --- | --- |
| Name | Ghost Dye™ Red 710 |
| Cat. No. | 13-0871 |
| Protocol | Download Protocol |
| Excitation Laser | Red (633-647 nm) |
| Emission (nm) | 710 |
| Formulation | 1 µL/test in DMSO |
| Application | Flow Cytometry |
Shipping
Price calculated at checkout.