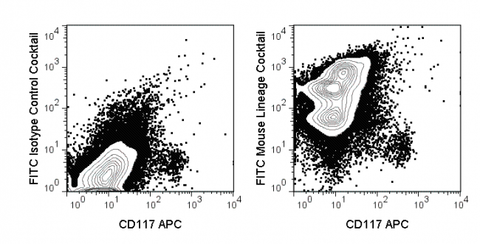 FITC Mouse Lineage Cocktail with Isotype Control
SKU 92-7770-T100
Description
The FITC Mouse Lineage Cocktail contains a combination of pre-diluted antibodies that identify lineage committed cells by flow cytometry and facilitate their exclusion from hematopoietic progenitor cells in mouse bone marrow. The antibodies in the cocktail react with cells from major hematopoietic lineages including T, B and NK cells, monocytes/macrophages, granulocytes and erythrocytes.
The Lineage Cocktail contains the following FITC conjugated antibodies: anti-mouse CD3 (17A2), anti-mouse CD11b (M1/70), anti-mouse CD45/B220 (RA3-6B2), anti-mouse Ly-6G (Gr-1) (RB6-8C5) and anti-mouse TER-119 (TER-119). An Isotype Control Cocktail consisting of FITC conjugated isotype-matched control antibodies (Rat IgG2a, κ; Rat IgG2b, κ) is also provided in a separate vial.
| | |
| --- | --- |
| Name | FITC Mouse Lineage Cocktail with Isotype Control |
| Cat. No. | 92-7770 |
| Alternative Names | lin-1 |
| Clone | 17A2, M1/70, RA3-6B2, RB6-8C5, TER-119 |
| Isotype | Rat IgG2a, κ; Rat IgG2b, κ |
| Reactivity | Mouse |
| Format | FITC |
| Application | Flow Cytometry |
Shipping
Price calculated at checkout.