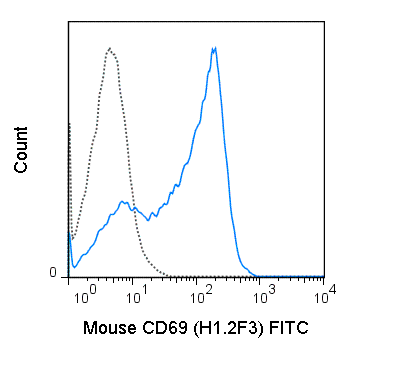 FITC Anti-Mouse CD69 (H1.2F3)
SKU 35-0691-U025
Description
The H1.2F3 antibody reacts with mouse CD69, a type II transmembrane glycoprotein also known as the Very Early Activation Antigen, EA-1, Leu23, Activation Inducer Molecule (AIM) and CLEC2C. CD69 is expressed as a 60 kDa disulfide-linked homodimer on activated T and B cells, NK cells, neutrophils and monocytes. Induction occurs rapidly upon activation. It is also constitutively expressed on platelets and a subset of thymocytes. CD69 acts as a co-stimulatory molecule involved in activation and proliferation of T cells, and may be a marker for thymocytes undergoing TCR-mediated positive selection.
Co-stimulation with the H1.2F3 clone has been reported to enhance T cell and macrophage activation. Please choose the appropriate format for each application.
Recent Citations:
Brian BF 4th, Sauer ML, Greene JT, Senevirathne SE, Lindstedt AJ, Funk OL, Ruis BL, Ramirez LA, Auger JL, Swanson WL, Nunez MG, Moriarity BS, Lowell CA, Binstadt BA, Freedman TS. A dominant function of LynB kinase in preventing autoimmunity. Sci Adv. 2022 Apr 22;8(16):eabj5227. doi: 10.1126/sciadv.abj5227. Epub 2022 Apr 22. PMID: 35452291.
| | |
| --- | --- |
| Name | FITC Anti-Mouse CD69 (H1.2F3) |
| Cat. No. | 35-0691 |
| Alternative Names | Very Early Activation Antigen (VEA), AIM, EA-1, Leu23, CLEC2C, MLR3, gp34/28 |
| Gene ID | 12515 |
| Clone | H1.2F3 |
| Isotype | Armenian Hamster IgG |
| Reactivity | Mouse |
| Format | FITC |
| Application | Flow Cytometry |
Shipping
Price calculated at checkout.