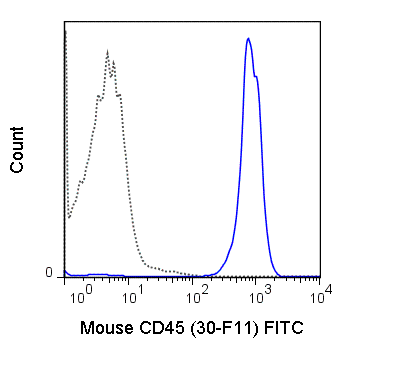 FITC Anti-Mouse CD45 (30-F11)
SKU 35-0451-U025
Description
The 30-F11 antibody reacts with mouse CD45, which is one of the most abundant hematopoietic markers and is expressed on all leukocytes (the Leukocyte Common Antigen, LCA). CD45 is a protein tyrosine phosphatase existing in several isoforms, each being generated and expressed in cell-specific patterns. With its broad cell distribution, CD45 is critical for many leukocyte functions, regulating signal transduction and cell activation associated with the T cell receptor, B cell receptor, and IL-2 receptor. Other forms of CD45, with restricted cellular expression, include CD45R (B220), CD45RA, CD45RB, CD45RO and others.
The 30-F11 antibody is widely used as a leukocyte marker for B cells, T cell subsets and NK cell subsets.
Recent Publications:

Itokazu M, Onodera Y, Mori T, Inoue S, Yamagishi K, Moritake A, Iwawaki N, Shigi K, Takehara T, Higashimoto Y, Akagi M, Teramura T. Adipose-derived exosomes block muscular stem cell proliferation in aged mouse by delivering miRNA Let-7d-3p that targets transcription factor HMGA2. J Biol Chem. 2022 Jun 6:102098. doi: 10.1016/j.jbc.2022.102098. Epub ahead of print. PMID: 35679898.
Ishikura N, Sugimoto M, Yorozu K, Kurasawa M, Kondoh O. Anti‑VEGF antibody triggers the effect of anti‑PD‑L1 antibody in PD‑L1low and immune desert‑like mouse tumors. Oncol Rep. 2022 Feb;47(2):36. doi: 10.3892/or.2021.8247. Epub 2021 Dec 27. PMID: 34958105.
Baniel CC, Sumiec EG, Hank JA, Bates AM, et al. Intratumoral injection reduces toxicity and antibody-mediated neutralization of immunocytokine in a mouse melanoma model. J Immunother Cancer. 2020 Oct;8(2):e001262. doi: 10.1136/jitc-2020-001262. PMID: 33115944.
Diaz-Flores E, Comeaux EQ, Kim KL, et al. Bcl-2 Is a Therapeutic Target for Hypodiploid B-Lineage Acute Lymphoblastic Leukemia. Cancer Res. 2019;79(9):2339-2351. doi:10.1158/0008-5472.CAN-18-0236.
Benck CJ, Martinov T, Fife BT and Chatterjea D. 2016. J. Vis. Exp. (107), e53638, doi:10.3791/53638. (Flow Cytometry)
| | |
| --- | --- |
| Name | FITC Anti-Mouse CD45 (30-F11) |
| Cat. No. | 35-0451 |
| Alternative Names | Leukocyte Common Antigen, LCA, Ly-5 |
| Gene ID | 19264 |
| Clone | 30-F11 |
| Isotype | Rat IgG2b, κ |
| Reactivity | Mouse |
| Format | FITC |
| Application | Flow Cytometry |
Shipping
Price calculated at checkout.