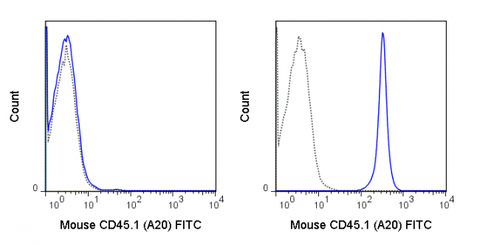 FITC Anti-Mouse CD45.1 (A20)
SKU 35-0453-U025
Description
The A20 antibody reacts with mouse CD45.1, also known as Ly5.1, which is a strain-specific allelic form of the CD45 Leukocyte Common Antigen (LCA). Functionally, CD45 is a protein tyrosine phosphatase whose broad cell distribution supports a critical role in many leukocyte functions, including regulation of signal transduction and cell activation associated with the T cell and B cell receptors.
The A20 antibody is typically used as a leukocyte marker in Ly5.1 mouse strains: SJL/J, DA, STS/A and RIII. The antibody has been demonstrated to specific for CD45.1 and is not cross-reactive with CD45.2 bearing cells.
Recent Publications:
Rahim T, Levinson MA, Carufe KEW, Burak M, Meas R, Maher S, Bothwell ALM, Gades N, Sweasy JB. The hematopoietic compartment is sufficient for lupus development resulting from the POLB-Y265C mutation. PLoS One. 2022 Apr 29;17(4):e0267913. doi: 10.1371/journal.pone.0267913. PMID: 35486639; PMCID: PMC9053796.
Nishina T, Deguchi Y, Ohshima D, et a. Interleukin-11-expressing fibroblasts have a unique gene signature correlated with poor prognosis of colorectal cancer. Nat Commun. 2021 Apr 16;12(1):2281. doi: 10.1038/s41467-021-22450-3. PMID: 33863879.
| | |
| --- | --- |
| Name | FITC Anti-Mouse CD45.1 (A20) |
| Cat. No. | 35-0453 |
| Alternative Names | SJL, Ly5.1 |
| Gene ID | 19264 |
| Clone | A20 |
| Isotype | Mouse IgG2a, κ |
| Reactivity | Mouse |
| Format | FITC |
| Application | Flow Cytometry |
Shipping
Price calculated at checkout.