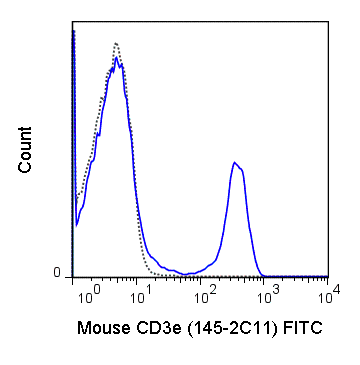 FITC Anti-Mouse CD3e (145-2C11)
SKU 35-0031-U025
Description
The 145-2C11 antibody is specific for mouse CD3e, also known as CD3 epsilon, a 20 kDa subunit of the T cell receptor complex, along with CD3 gamma and CD3 delta. These integral membrane protein chains assemble with additional chains of the T cell receptor (TCR), as well as CD3 zeta chain, to form the T cell receptor – CD3 complex. Together with co-receptors CD4 or CD8, the complex serves to recognize antigens bound to MHC molecules on antigen-presenting cells. Such interactions promote T cell receptor signaling (T cell activation) and can result in a number of cellular responses including proliferation, differentiation, production of cytokines or activation-induced cell death. CD3 is differentially expressed during thymocyte-to-T cell development and on all mature T cells.
The 145-2C11 antibody is a widely used phenotypic marker for mouse T cells. In addition, binding of 145-2C11 antibody to CD3e can induce cell activation. A recent publication of the crystal structure of a murine CD3e-mitogenic antibody complex provides further insight into the action of commonly used agonist antibodies (Fernandes, R.A. et al. 2012. J. Biol. Chem. 287: 13324-13335).
Recent Publications:

Hinke DM, Andersen TK, Gopalakrishnan RP, Skullerud LM, Werninghaus IC, Grødeland G, Fossum E, Braathen R, Bogen B. Antigen bivalency of antigen-presenting cell-targeted vaccines increases B cell responses. Cell Rep. 2022 May 31;39(9):110901. doi: 10.1016/j.celrep.2022.110901. PMID: 35649357.
Brandi P, Conejero L, Cueto FJ, Martínez-Cano S, Dunphy G, Gómez MJ, Relaño C, Saz-Leal P, Enamorado M, Quintas A, Dopazo A, Amores-Iniesta J, Del Fresno C, Nistal-Villán E, Ardavín C, Nieto A, Casanovas M, Subiza JL, Sancho D. Trained immunity induction by the inactivated mucosal vaccine MV130 protects against experimental viral respiratory infections. Cell Rep. 2022 Jan 4;38(1):110184. doi: 10.1016/j.celrep.2021.110184. PMID: 34986349.
Kinsella S, Evandy CA, Cooper K, Iovino L, deRoos PC, Hopwo KS, Granadier DW, Smith CW, Rafii S, Dudakov JA. Attenuation of apoptotic cell detection triggers thymic regeneration after damage. Cell Rep. 2021 Oct 5;37(1):109789. doi: 10.1016/j.celrep.2021.109789. PMID: 34610317.
Fu Z, Dean JW, Xiong L, et al. Mitochondrial transcription factor A in RORγt+ lymphocytes regulate small intestine homeostasis and metabolism. Nat Commun. 2021 Jul 22;12(1):4462. doi: 10.1038/s41467-021-24755-9. PMID: 34294718.
» View on Nature Communications
C Khouili S, Cook ECL, Hernández-García E, Martínez-López M, Conde-Garrosa R, Iborra S. SHP-1 Regulates Antigen Cross-Presentation and Is Exploited by Leishmania to Evade Immunity. Cell Rep. 2020 Dec 1;33(9):108468. doi: 10.1016/j.celrep.2020.108468. PMID: 33264612.
Blagih J, Zani F, Chakravarty P, et al. Cancer-Specific Loss of p53 Leads to a Modulation of Myeloid and T Cell Responses. Cell Rep. 2020;30(2):481-496.e6. doi:10.1016/j.celrep.2019.12.028.
Shiyang Li, John W. Bostick, Jian Ye, Joseph F. Urban, Jr., Dorina Avram, Liang Zhou. Aryl Hydrocarbon Receptor Signaling Cell Intrinsically Inhibits Intestinal Group 2 Innate Lymphoid Cell Function. Immunity. 2018 Nov 20;49(5):915-928.e5. doi: 10.1016/j.immuni.2018.09.015
Adami AJ, Bracken SJ, Guernsey LA, et al. Early-life antibiotics attenuate regulatory T cell generation and increase the severity of murine house dust mite-induced asthma. Pediatr Res. 2018;84(3):426-434. doi:10.1038/s41390-018-0031-y.
Wu J and Waxman DJ. 2015. OncoImmunol. DOI:10.1080/2162402X.2015.1005521. (Flow Cytometry)
| | |
| --- | --- |
| Name | FITC Anti-Mouse CD3e (145-2C11) |
| Cat. No. | 35-0031 |
| Alternative Names | CD3 epsilon |
| Gene ID | 12501 |
| Clone | 145-2C11 |
| Isotype | Armenian Hamster IgG |
| Reactivity | Mouse |
| Format | FITC |
| Application | Flow Cytometry |
Shipping
Price calculated at checkout.