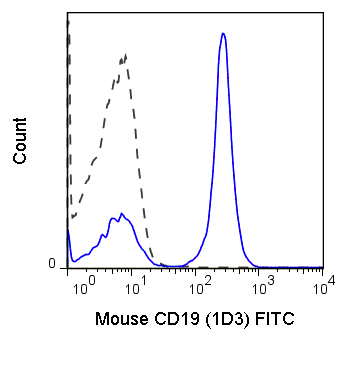 FITC Anti-Mouse CD19 (1D3)
SKU 35-0193-U025
Description
The 1D3 antibody reacts with mouse CD19, a 95 kDa glycoprotein which acts as a co-receptor, along with CD21 and CD81, in support of the functional B cell receptor (BCR). This complex provides antigen-specific recognition and subsequent activation of B cells to proliferate and differentiate into antibody-secreting cells (plasma cells) or memory B cells, which are crucial for secondary antigen encounter. CD19 is a lineage-differentiation marker, as its expression is detectable at the earliest B cell stages, through development, and is finally lost upon transition to mature plasma cells. The 1D3 antibody is widely used as a phenotypic marker for CD19 expression on B cells, as well as on dendritic cell subsets.
Recent Citations:
Hinke DM, Andersen TK, Gopalakrishnan RP, Skullerud LM, Werninghaus IC, Grødeland G, Fossum E, Braathen R, Bogen B. Antigen bivalency of antigen-presenting cell-targeted vaccines increases B cell responses. Cell Rep. 2022 May 31;39(9):110901. doi: 10.1016/j.celrep.2022.110901. PMID: 35649357.
| | |
| --- | --- |
| Name | FITC Anti-Mouse CD19 (1D3) |
| Cat. No. | 35-0193 |
| Alternative Names | Leu-12, B4 |
| Gene ID | 12478 |
| Clone | 1D3 |
| Isotype | Rat IgG2a, κ |
| Reactivity | Mouse |
| Format | FITC |
| Application | Flow Cytometry |
Shipping
Price calculated at checkout.