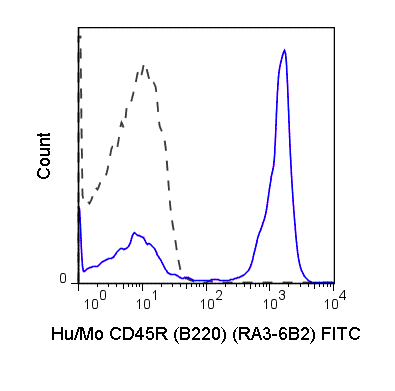 FITC Anti-Human/Mouse CD45R (B220) (RA3-6B2)
SKU 35-0452-U025
Description
The RA3-6B2 antibody reacts with the human and mouse CD45 isoform known as CD45R, or B220, a protein tyrosine phosphatase of ≥ 220 kDa. CD45 is one of the most abundant hematopoietic markers, and is expressed on all leukocytes (the Leukocyte Common Antigen, LCA). Various isoforms are generated and expressed in cell-specific patterns, all critical for leukocyte function. In mouse, the CD45R/B220 isoform is predominantly found on B cells, at varying levels on all stages from pro-B cells to activated B cells, and may also be detected on certain T cell and NK cell subsets. It is of note that B220 is not similarly expressed on human B cells, where it appears to be differentiation-specific and therefore expressed on only some B cell subsets. Other forms of CD45 with restricted cellular expression include CD45RA, CD45RB, CD45RO and several others.
The RA3-6B2 antibody is one of the most consistently used leukocyte markers for B cells, T cell subsets and NK cell subsets in human and mouse. This antibody has also been reported as cross-reactive with feline CD45R/B220.
Recent Publications:
Hinke DM, Andersen TK, Gopalakrishnan RP, Skullerud LM, Werninghaus IC, Grødeland G, Fossum E, Braathen R, Bogen B. Antigen bivalency of antigen-presenting cell-targeted vaccines increases B cell responses. Cell Rep. 2022 May 31;39(9):110901. doi: 10.1016/j.celrep.2022.110901. PMID: 35649357.
Baba T, Yoshida T, Tanabe Y, et al. Cytoplasmic DNA accumulation preferentially triggers cell death of myeloid leukemia cells by interacting with intracellular DNA sensing pathway. Cell Death Dis. 2021 Mar 26;12(4):322. doi: 10.1038/s41419-021-03587-x. PMID: 33771977.  
Aihara R, Kunimura K, Watanabe M, Uruno T, Yamane N, Sakurai T, Sakata D, Nishimura F, Fukui Y. DOCK8 controls survival of group 3 innate lymphoid cells in the gut through Cdc42 activation. Int Immunol. 2020 Sep 28:dxaa066. doi: 10.1093/intimm/dxaa066. PMID: 32986079.   
| | |
| --- | --- |
| Name | FITC Anti-Human/Mouse CD45R (B220) (RA3-6B2) |
| Cat. No. | 35-0452 |
| Alternative Names | Ly-5, Lyt-4, T200 |
| Gene ID | 19264 |
| Clone | RA3-6B2 |
| Isotype | Rat IgG2a, κ |
| Reactivity | Human, Mouse |
| Cross Reactivity | Feline |
| Format | FITC |
| Application | Flow Cytometry |
Shipping
Price calculated at checkout.